Sick of Sedans? U.S. Car Sales Are Expected to Fall to Recession Levels
(Bloomberg) -- With sport utility vehicles taking over American roads, passenger cars are in rapid decline. Sales of sedans, coupes and sports cars are on pace for their worst year since 2009, the year when industrywide new-vehicle deliveries plunged to a three-decade low and GM and Chrysler went through bankruptcy.
U.S. passenger car sales fell to a low of 5.4 million in 2009 before bouncing back to 7.6 million by 2014, according to data from Erich Merkle, Ford Motor Co.'s U.S. sales analyst. Since then, though, deliveries have dropped back to 6.1 million in 2017 and are on pace this year to finish around 5.4 million again. SUVs first supplanted cars in 2016 and are on track to reach a record 8.3 million this year.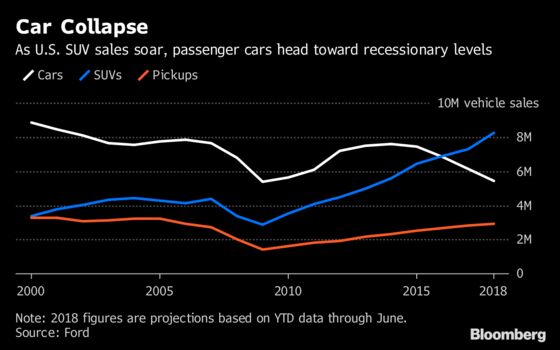 Automakers are adjusting their lineups accordingly. Ford expects only about 10 percent of its North American vehicles will be cars by 2020. Merkle said he expects the sales trend to continue as long as baby boomers continue to prefer small SUVs over cars and as millennials move to the suburbs to start families.
"Those are the two biggest demographics shifting vehicle segment sales, and they both continue to prefer the larger cars as they age," Merkle said. "Additionally, the issues that kept people from buying SUVs in the past have largely been removed. They have much better fuel economy, and they handle and ride better than they ever have."