Martin Sorrell: WPP's Useful Sideshow
(Bloomberg Opinion) -- The set-to between WPP Plc and former CEO Martin Sorrell is becoming increasingly acrimonious.
All of this noise serves both sides well. For Sorrell, it keeps his investment vehicle S4 Capital Ltd. in the news as he prepares to raise as much as 1 billion pounds. As prominent and experienced a figure as he is, the reality is that so far he has secured just 11 million pounds of external investment, and pledges of 150 million pounds of further funding. The ad man himself told Bloomberg News as much in an interview last month, saying "I can't believe that a $20 billion company would be worried about a peanut. No offense to peanut farmers."
Which brings us to WPP. For the world's biggest ad agency, the row helpfully deflects attention from its own efforts to recalibrate its business in the post-Sorrell era. There are two issues at the forefront of investors' minds: who will succeed Sorrell and how to restructure the sprawling empire he once led. Yet three months after Sorrell's ouster, WPP is still to appoint a successor, and little has been made public to suggest the company has fixed key problems such as its various agencies bidding against each other for contracts.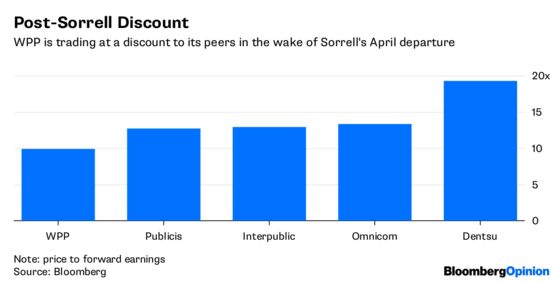 WPP shares, down 12 percent this year, have been little changed since Sorrell's departure. The firm still trades at a discount to peers like Publicis Group SA and Omnicom Group Inc. Organic sales growth in the second quarter is likely to be underwhelming, according to Bloomberg Intelligence analysts Matthew Bloxham and Paul Sweeney.
While Chairman Roberto Quarta and Independent Director Nicole Seligman take the flak for Sorrell's departure, co-chief operating officers Mark Read and Andrew Scott are being left to rejig the business. A summer with its founder in the spotlight might just give them respite they need to get out of his shadow. They just need to ensure that they don't let Sorrell's antics occupy their attention.