Europe's Buyback Stocks Do Better Than Its Dividend Kings
(Bloomberg) -- Share buybacks may be rare in Europe, but they pay off handsomely when they're deployed. With monetary policy tightening, the stocks are also a better bet than those with steady dividends.
Shares of European companies that have announced repurchases this year -- including Allianz SE and ASML Holding NV -- have risen sharply against the Stoxx Europe 600, a basket compiled by JPMorgan Chase & Co. shows. A separate basket of stocks that are likely to keep paying dividends -- including GlaxoSmithKline Plc, Natixis SA and Daimler AG -- has fallen against the broader market in that time.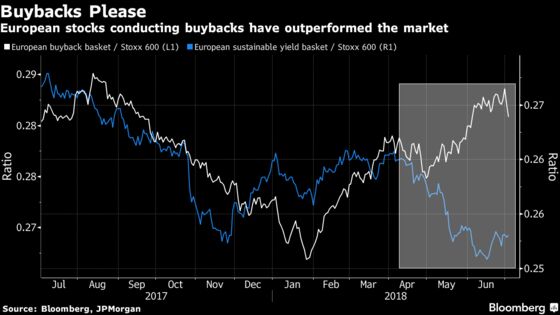 Since global markets began rebounding after the global financial crisis, buybacks have been far less common in the Europe than in the U.S., where such moves have helped to power a nine-year bull run. With earnings in Europe now catching up, the question is whether companies will heed investors' appetite for buyback stocks.
"European buybacks activity remains soft, but stocks are being rewarded," JPMorgan strategists led by Mislav Matejka wrote in a note. "Against the current backdrop of rising bond yields, the stocks that offer sustainable yield pickup could be under pressure."
Glencore Plc, a constituent of both the buyback and sustainable yield baskets, said on Thursday it will repurchase as much as $1 billion of its shares, after a U.S. probe shook confidence in the commodity giant. The stock is set for its first gain this week.
Expectations for higher yields were shaken in recent market turmoil, prompting stocks with steady dividends to rebound and those in the buyback basket to slip of late. While concerns about trade restrictions have been driving bond yields lower, the U.S. is on a firm path of tighter monetary policy, and Europe is paving the way for interest rate increases.