Brexit Bulletin: May's Slow, Long Game
(Bloomberg) -- Today in Brexit:  Even as Theresa May's new Brexit plan is rejected by her chief negotiator, it's worth remembering how far she has already brought her ministers.
Prime Minister Theresa May is gradually dragging her deeply divided Cabinet toward her vision of Brexit – and it's a softer version than the one she originally promised.
Her delaying has irked counterparts in the European Union, who say their patience with the U.K. and its political drama is running out. But by moving slowly, and offering token political gifts to the Brexit-backers along the way, she has clung on to her position – in the face of resignation threats and leadership plots – and shifted the terms of the Brexit debate.
First the Brexiters objected to paying a financial settlement for the divorce. May agreed to do so, peppering the announcement over a few months, and her critics accepted it. Then they objected to a transition period that would keep Britain bound to EU rules after Brexit day. May agreed to one, and they acquiesced.
Then she opened the door to indirect jurisdiction for the European Court of Justice – an institution loathed by euroskeptics as a symbol of lost sovereignty – and they kept quiet. Brexit Secretary David Davis threatened to resign over a plan for the Irish border, but stepped back from the brink after winning a concession from May that is unlikely to survive negotiations with Brussels. (Davis is the one making the most noise in the run-up to the crunch Cabinet meeting on Friday, too.)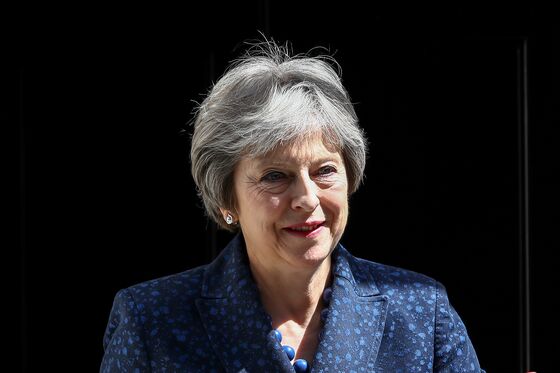 Now May is proposing to keep the U.K. aligned with EU rules for trade in goods – a proposal that's toxic for Brexit backers because it could reduce the scope for striking new commercial deals around the world, which was a key part of the Brexit campaign's narrative. Michael Gove, a possible leadership candidate, is predicting that no one will resign.
The danger isn't over for May. She could still be ousted. But if she comes out of the crunch Cabinet meeting on Friday with an agreement, it will be something of a victory for a prime minister persistently vilified for her lack of authority.
As the Brexit process heads into the endgame, she will be tested time and again. The EU is almost certain to reject the proposal that she aims to force through the Cabinet on Friday. So even if she gets her ministers on board, she will have to go through it all again when Brussels tells her to come up with a better idea. Charles Grant, director of the Centre for European Reform, reckons May's plan might just have enough in it to make Brussels say "no, but," instead of "no, no, no."
May's track record, and the Brexiters' reluctance to risk a crisis that ends up derailing the divorce altogether, argue in favor of her staggering on, winning one small fight at a time, to the Brexit day finishing line.
What if the Brexit timetable could be stretched out a little? Article 50 explicitly gives the European Council the power to extend the two-year process. The common assumption was that the member state had to ask, but there's no reason the EU couldn't offer an unsolicited extension, Therese Raphael argues.
Brexit Secretary David Davis has written to May to say her new customs compromise is unworkable. Meanwhile ministers don't expect to see the full document they're meant to be agreeing to on Friday until the night before, Tim Ross and Alex Morales report.
Jaguar Joins the Chorus | Jaguar Land Rover says a "bad Brexit" deal would jeopardize as much as 80 billion pounds ($106 billion) in investments over the next five years and lead the company to "drastically adjust our spending profile." Extra costs and delays in parts deliveries coming from outside the U.K. would cut profit by 1.2 billion pounds a year, according to CEO Ralf Speth.
Motivating Factor | Nigel Farage pledged to return to frontline politics if Brexit is delayed beyond March 2019.
Existential Threat | Gibraltar is often forgotten about in the Brexit debate, bar a few saber-rattling headlines. But the split poses an existential problem for the rocky outcrop, where 96 percent of voters backed Remain. Esteban Duarte explains all in a Bloomberg QuickTake.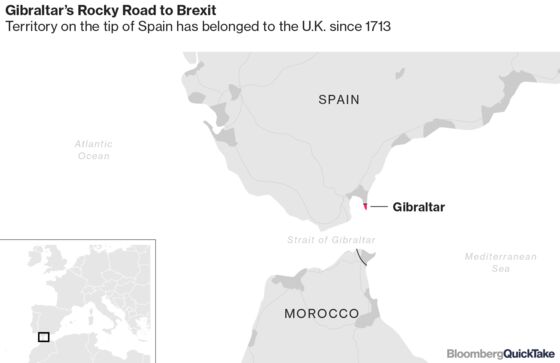 Six Tests | The Institute for Government think tank argues that May's white paper must make clear to the EU side where the government has moved. It "needs to be aimed at EU interlocuteurs, not the Prime Minister's backbenches." It needs to be "realistic and workable," comprehensive, solve the Irish border question and show the U.K. is listening to the EU's concerns, Jill Rutter argues.
Coming Up | Theresa May goes to Berlin to see German Chancellor Angela Merkel. (She saw Dutch Prime Minister Mark Rutte earlier this week.) Bank of England Governor Mark Carney speaks at an event in Newcastle at 11 a.m.