Boeing's 'Bargain' Deal for Embraer Sinks Brazilian Planemaker
(Bloomberg) -- Embraer SA tanked after a deal with Boeing Co. appeared to undervalue the company. Analysts are still optimistic.
Embraer fell as much as 16 percent in Sao Paulo, the most intraday in 17 years, after the companies announced a joint venture Thursday that valued the Brazilian planemaker's commercial aviation unit at $4.75 billion. That figure compares to Embraer's total market value of $4.3 billion -- which includes two other divisions: executive and military aviation. BTG Pactual had valued the commercial unit at between $8 billion and $10 billion, according to a July 3 report.
While the deal is positive for both companies, the market is correcting for the 63 percent jump in shares since an initial December report on the potential tie-up, Eleven Financial Research Raphael Figueredo said in an interview.
"The stock had a huge rally recently on the deal's expectations and then transaction numbers came in below the estimates," Mario Avelar, a portfolio manager at Avantgarde Capital, said in a phone interview.
But BTG and Bradesco BBI are still positive on Embraer.
"The valuation was lower than we expected, but we see a 20 percent upside to yesterday's closing price," BTG analyst Renato Mimica said in a note today.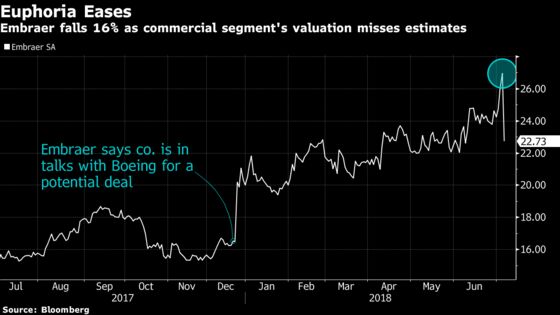 Bradesco BBI is sticking to its neutral recommendation on the company's American depositary receipts, and raising its price target to $31 from $29 for the end of the year.
"The deal structure came in line with our estimates and will enable both companies to fight back against Airbus-Bombardier," Bradesco BBI analyst Victor Mizusaki wrote in a report Thursday.
Embraer plans to present its joint venture proposal with Boeing for shareholder approval by December, CFO Nelson Salgado said in a conference call this morning.
"We anticipate we'll need regulatory approval from at least 10 countries," and once all of the approvals are received and they can be implemented, Embraer plans to use the $3.8 billion cash for investments, deleveraging, an extra dividend and a share buyback program, Salgado added.