U.S. June IHS Markit Manufacturing Up Over Preliminary Figure
(Bloomberg) -- The seasonally adjusted IHS Markit final U.S. Manufacturing Purchasing Managers' Index rose to 55.4 in June, up from the 'flash' figure of 54.6 released on June 22.
"The PMI for June rounds off the best quarter for manufacturing for almost four years," commented Chris Williamson, Chief Business Economist at IHS Markit. "The second quarter ended the strongest quarterly performance since the third quarter of 2014."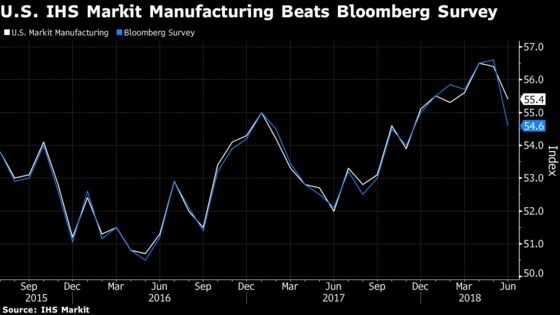 Recent tariff announcements were to blame for weaker foreign client demand and were widely cited as contributing to a sharp rise in input prices, according to survey panelists. They noted higher input costs were partly passed on to clients.
"Tariffs were widely blamed on a further marked rise in input costs, and also linked to worsening supply chain delays - which hit the highest on record, exacerbating existing tight supply conditions," said Williamson.
Factory output prices rose to the second-fastest level in seven years.