Mexico City Poised to Elect First Woman Mayor, Exit Poll Shows
(Bloomberg) -- Mexico City is likely to have elected a woman mayor for the first time, choosing a candidate from the left-wing Morena party, according to exit polls from El Financiero.
Claudia Sheinbaum's win was widely expected, as she has been leading polls. The 56-year-old scientist previously served as head of the Tlalpan neighborhood in southern Mexico City. Candidates from the left or left-led coalitions have controlled the mayor's office in the capital since the 1990s.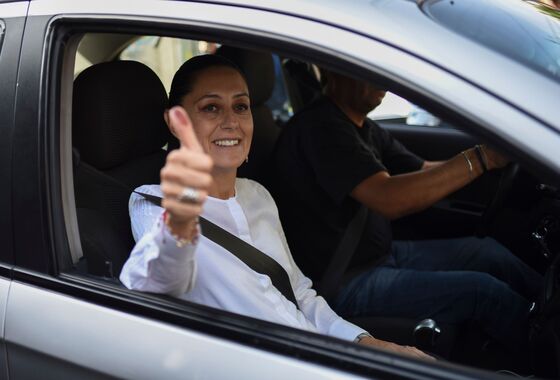 Sheinbaum would become the first woman chosen by voters to lead Mexico City. Rosario Robles was the interim head of the capital's government in 1999 and 2000 after leftist Cuauhtemoc Cardenas stepped down to become the presidential candidate of the PRD.
If Andres Manuel Lopez Obrador wins today, as is widely expected, it would leave the same party in control of the capital and the presidency for the first time since the Mexico City regent was replaced with a directly-elected mayor in 1997.
Sheinbaum was the environmental secretary under Lopez Obrador when he was mayor.
Follow coverage the Mexico election in real time in our TOPLive blog here.