Majority of U.S. Adults Are Not 'Extremely Proud to Be Americans'
(Bloomberg) -- Red, white -- and blue. Fewer than half of U.S. adults -- an estimated 47 percent -- are "extremely proud" to be Americans this year, according to a Gallup survey issued in advance of the Fourth of July holiday. "Left-leaning groups' antipathy toward Donald Trump and their belief that other countries look unfavorably on the president are likely factors in their decline in patriotism, particularly the sharp drops in the past year," Gallup said. "The declines began before Trump was elected" and "accelerated in the past year," the polling organization added. It's the first drop below 50 percent since Gallup started asking the question 17 years ago.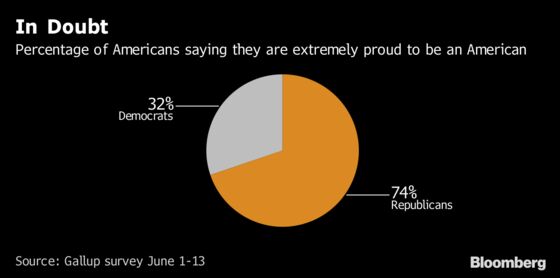 The shift in opinion is most evident among young adults, college graduates, non-whites and women, according to Gallup. The Republican-Democratic gap in extreme pride has grown from 15 percentage points in 2013 to 42 percentage points today as Democrats take a dimmer view. The "extremely proud" category peaked at 70 percent when George W. Bush, a Republican, occupied the White House.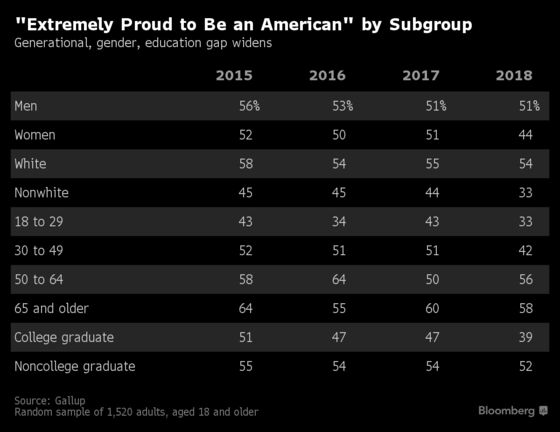 Gallup also said: "National pride may be just one of a growing number of issues -- including opinions about guns, labor unions and the environment -- for which party loyalties are pushing Democrats and Republicans to adopt divergent views. These changes are making each party's base more homogeneous but increasingly different from one another."