Long-Bond Rally Runs Into Roadblock
(Bloomberg) -- A rally at the long end of the Treasury curve is stalling as U.S. 30-year yields struggle to break below critical levels ahead of key risk events this week.
Mounting concerns about global trade friction and emerging-market weakness have been driving investors toward the relative safety of Treasuries. The yield has nudged below its 200-day moving average a number of times over the past week, but it still hasn't closed beneath it since January. On Monday, the rate once again edged below the average -- currently around 2.9683 percent -- before bouncing back above 2.98 percent in New York trading.
The market could also face technical headwinds from a so-called triple bottom, with the yield failing to push below 2.95 percent on three occasions since early April. This holiday-shortened week, which includes a crucial deadline for the U.S. to impose tariffs on Chinese imports, as well as the monthly American jobs report and minutes of the latest Federal Open Market Committee meeting, could prove pivotal in determining whether the rally can get additional steam.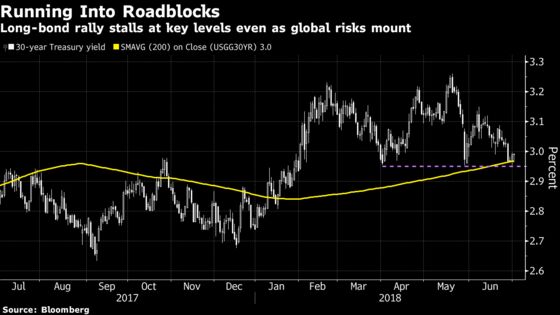 "Combining trade tensions, flagging data, EM struggles, hints of a European twist, and volatility in global equities, it's challenging to imagine the Treasury markets will drift sideways for very long," BMO Capital Markets strategist Ian Lyngen wrote in a note Monday. "With this backdrop of risk-off drivers, we're not particularly surprised to see 30-year yields flirting with several important technical levels."
The move so far already represents a notable turnaround from mid-May, when long-bond yields rose to a three-year high of 3.2612 percent amid rising inflation expectations and building concern over swelling U.S. debt issuance. The maturity has since rallied, with the yield falling in five of the past six weeks.