Japan Says Emperor Akihito Taken Ill With Dizziness
(Bloomberg) -- Japan's Emperor Akihito is experiencing dizziness and has been assessed by doctors as needing to rest for some time, Japanese Chief Cabinet Secretary Yoshihide Suga said Monday.
The 84-year-old emperor felt unwell at around 4 a.m. local time today and was seen by a doctor, Suga said at a regular press conference in Tokyo. Empress Michiko carried out an engagement the imperial couple were scheduled to attend together, public broadcaster NHK reported, citing the Imperial Household Agency. He is being asked to rest as a precaution and doesn't have plans to be hospitalized, Nikkei reported.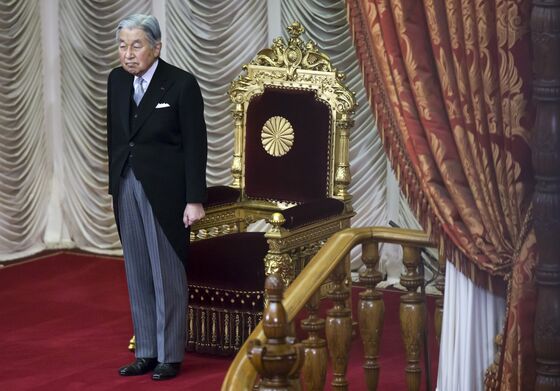 Akihito, the head of the world's oldest hereditary monarch, is scheduled to abdicate on April 30 next year, handing over the position to his son, Crown Prince Naruhito. He indicated his readiness to step down in a televised message in August 2016, saying he was concerned that it would become difficult for him to carry out his duties.
His history of health problems includes surgery for a successful heart bypass in 2012 and a hospitalization for pneumonia the previous year.