If Traders Love Volatility, They'll Hate This Muni-Bond Market
(Bloomberg) -- If you're a trader who lives on volatility, the municipal-bond market would be the end of you.
There's been no lack of drama in financial markets recently, with occasional fears of a trade war whipsawing stocks or cryptocurrencies crashing. But you'd never know it by looking at the state and local debt market, a frequent haven in times of uncertainty.
Yields on 10-year municipal bonds didn't rise or fall more than 2.4 basis points on any day in June -- and on six days yields didn't move at all. The price volatility over the past 20 days is the lowest since August 2010, according to data compiled by Bloomberg.
"It's been a struggle to make money," said Patrick Luby, municipal strategist at CreditSights. "My suspicion is that a lot of folks are trying to be hedged and are happy to just to be in the middle of some order flow."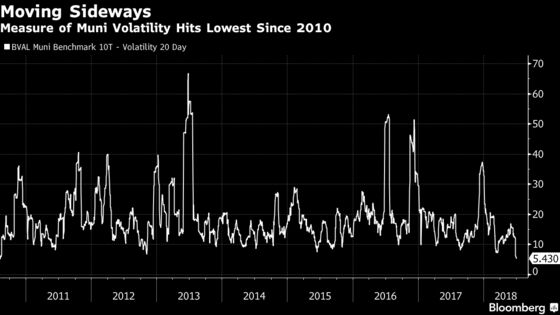 Last week, yields on Treasuries fell six basis points as jitters over rising global trade tensions drove investors toward the relative safety of U.S. debt. But that didn't register in the municipal market, which usually follows Treasuries around.
That could be because municipal-bond prices are high relative to corporate bonds, deterring cross-over investors from buying state and local government bonds and making the market's core customers -- individual investors -- even more dominant than they already are, Luby said.
Dealer inventories of long-maturity municipal bonds are close to the year's highs, according to Barclays Plc, showing there's "not unbridled buying," he said.
"What drives the market is urgency," Luby said. "There's a lot of reasons why investors are probably thinking to themselves, 'I don't need to move with urgency, because we've got a couple more rate hikes coming.'"