Brazil June IHS Markit Manufacturing PMI Dips Into Contraction
(Bloomberg) -- Brazil June IHS Markit PMI manufacturing activity dropped below 50.0 for the first time since March 2017, according to data released by the IHS Markit Brazil Manufacturing Purchasing Managers' Index. The June index fell to 49.8 from 50.7 in May.
A truck drivers' protest impacted the performance of Brazil's manufacturing industry as fewer orders were received and fewer deliveries were made. The protests hit production and increased prices.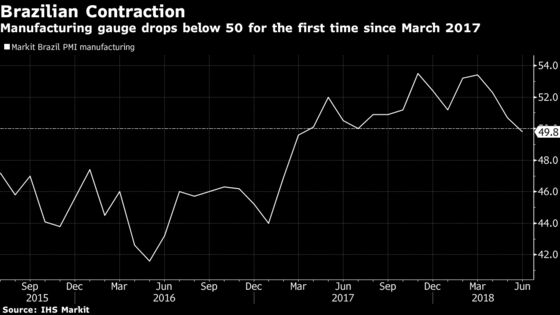 Pollyanna De Lima, principal economist at IHS Markit and author of the report, said: "As widely expected, due to the snowball effects of truck drivers' protests, Brazil's manufacturing sector dipped into contraction territory during June. Order book volumes and output fell for the first time in 16 months, the latter in part associated with shortages of inputs for use in the production process... Concurrently, lead times lengthened to the greatest extent in the history of the survey."
Scarcity of some items caused input prices to rise to the second highest level seen in the 12-year survey history. Companies, in turn, passed higher costs to their clients as output prices picked up to the strongest level in more than two years.
The trucking blockages also increased supplier delivery times to record highs.
Fewer sales led some manufacturers to shed jobs. June's employment index ended an eight-month expansionary period. Survey members cited job cutting efforts for the sharp contraction.
"Real depreciation reportedly enabled producers to secure new contracts from external markets, reversing the decline recorded in May," said De Lima. New export sales expanded at the quickest pace since last November.