Bombardier Rally Finds a Hometown Fan as Premier Talks Up Stock
(Bloomberg) -- One of Bombardier Inc.'s most important backers is betting that the planemaker has room for additional gains even after posting this year's third-best rally on the main Canadian stock index.
The shares will get a new boost as the C Series jet developed by Bombardier racks up new orders thanks to a joint venture with Airbus SE, Quebec Premier Philippe Couillard said Friday. The province plans to hang onto its stake in Bombardier and the C Series, a single-aisle aircraft with all-new technology.
Bombardier's gains are benefiting Quebec, which agreed to pump $1 billion into the C Series almost three years ago as Couillard extended a lifeline to a program that suffered from cost overruns and busted deadlines. Quebec has a seat on the board of the C Series partnership, plus warrants giving it the right to buy as many as 100 million Bombardier shares at C$2.21 apiece -- less than half the current price.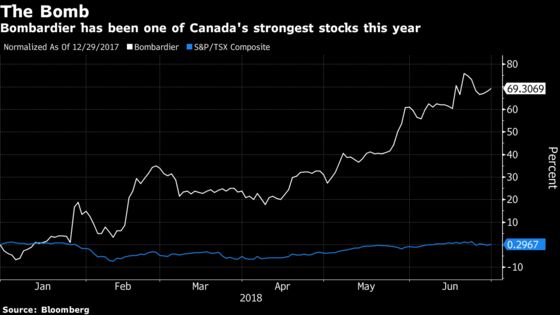 "Quebec taxpayers have already made money," Couillard said in an interview at Bloomberg headquarters in New York. "If you look at the exercise price of the warrants and the value of the shares today, most analysts expect the shares to go even higher."
Bombardier's widely traded Class B stock surged 68 percent this year through Thursday, the third-biggest gain on Canada's S&P/TSX Composite Index, which was little changed during that period. The stock advanced 2.1 percent to C$5.20 at 2:29 p.m. in Toronto.
Quebec's profit on the C Series investment currently stands at about C$300 million ($228 million) on paper, Couillard said. The Montreal-based manufacturer, which also makes trains, has been buoyed by improving cash flow, a rebound in business-jet orders and the October deal with Airbus on the C Series.
The European planemaker is scheduled to assume control of the aircraft program July 1, with plans eventually to build the plane in the U.S. as well as Canada. Optimism over the future of the C Series is a key reason why Quebec plans to keep its stake in the program, Couillard said.
"The beauty of the Airbus partnership is that Bombardier now has the sales power and the global footprint," Couillard said. "I'm pretty sure that new orders will be happening quite soon. It's a great plane."
Airbus is paying Bombardier no upfront cash for its majority stake in the C Series, and will have the right to buy out its partners after seven and a half years. The Toulouse, France-based company has said it will probably exercise that option.
Lining up a deep-pocketed investor such as Airbus was essential to ensure the future of the C Series, Couillard said.
"From the start we said there is no way this plane can be sold worldwide without a strategic partner," he said. "There were only three choices, practically speaking: Airbus, Boeing and the Chinese. This program would not have survived without a strategic partner. It would have lingered probably for a few years."