Trump's Chances of Coal Bailout Get Better With Resignation
(Bloomberg) -- The unexpected resignation of a U.S. energy regulator could slow approvals of new natural gas pipelines and tip the scales in favor of the Trump administration's bid to bail out uneconomic coal and nuclear plants.
Robert Powelson, a Republican member of the Federal Energy Regulatory Commission, announced he will resign in August to take up a new post as head of the National Association of Water Companies, according to a statement.
Powelson is the only Republican on the five-member panel who has openly opposed efforts to subsidize embattled coal and nuclear generators, a goal of President Donald Trump. Earlier this month, Powelson lashed out at the administration's latest plan to curb plant retirements, saying it threatens "to collapse the wholesale competitive markets that have long been a cornerstone of FERC policy."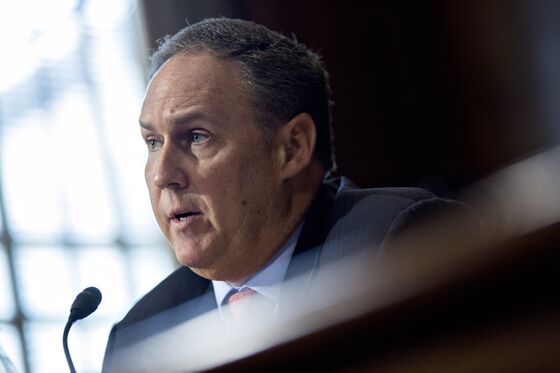 The Energy Department, under guidance from the White House, has proposed that coal and nuclear plants should be compensated for making the electric grid more resilient. While the administration theoretically can take such action without involving the commission, FERC's jurisdiction over U.S. power markets means it likely has a role in any plan that requires grid operators to make payments to generators. Commission Chairman Kevin McIntyre recently sought feedback from interested parties on whether FERC should take any action to make the grid more resilient.
"McIntyre has suggested he wants to move forward on the resiliency docket this summer, the question is whether or not having Powelson around on that will help," said Christi Tezak, managing director of ClearView Energy Partners.
His departure means the White House will face one less obstacle as it seeks to throw a lifeline to the coal industry. But it also means that Republicans will lose their majority on the commission, which could slow or hinder new natural gas projects.
The panel's members have been divided over the extent to which they should take climate change into account when approving pipelines, with the commission's two Democrats recently voting against major natural gas projects. The Republican majority has so far prevailed, approving on party lines Dominion Energy Inc.'s Atlantic Coast line and EQT Midstream Partners LP's Mountain Valley project.
Given the 2-2 split, a planned revamp of the commission's pipeline permitting policy could also come to a standstill, ClearView's Tezak said.
The commission and Powelson declined to comment beyond the official statement. His term was due to end in June 2020.
Before joining the commission, Powelson served as the president of the National Association of Regulatory Utility Commissioners and as a commissioner on the Pennsylvania Public Utility Commission.