Nike Finally Thwarts Adidas Threat in U.S. With Shares Hitting a Record
(Bloomberg) -- After several quarters on the bench, Nike Inc. has finally healed the damage inflicted by Adidas AG.
Nike increased sales in North America for the first time in a year, after its smaller European rival had been outmaneuvering the sneaker giant on its home turf. Nike's improved performance, sparked by new products and a smartphone shopping app, unleashed a slew of praise from Wall Street analysts. The stock surged as much as 13 percent to a record high in Friday trading.
"A key part of Nike's story has fallen into place with the strong return to growth of its largest market," said Chris Svezia, an analyst for Wedbush Securities Inc. "Nike product is making a clear comeback."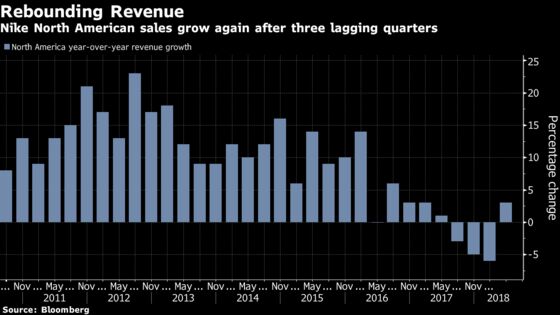 For more than a year, the Beaverton, Oregon-based company has been promising investors that slowing growth and revenue declines in its largest market were only a short-term trend. Nike said the lion's share of the blame fell on U.S. retail partners, which have been closing stores amid a broader industry retrenchment. But it also faced a rejuvenated Adidas, which has regained its cachet with consumers and been posting growth rates in North America of about 20 percent.
Even as Nike was caught off guard in the U.S., the company restored the confidence of investors and analysts over the past year with its international performance. Its rapid growth overseas, where it generates more than half its revenue, continued last quarter with sales surging 35 percent in China and 24 percent in the region that includes Europe, the Middle East and Africa.
Nike has responded to its troubles in North America by reducing the number of retailers it sells to in the region, while also pushing more purchases through its own stores and websites. This was done to improve margins, by cutting out the middle man, and maintaining better control of how the brand is displayed.
The improvement in North America prompted the company to nudge up its outlook for the current fiscal year. Nike is now forecasting annual sales growth in the high single digits, as opposed to a previous estimate for growth in the mid- to high single-digits.
Last quarter's results also came when the company responded to a misconduct scandal by pushing out a handful of high-ranking executives after an internal review. The offending behavior skewed toward bullying and unfair treatment of women. Most of the Wall Street analysts covering Nike who addressed the incident said the loss of talent and bad press would have little impact on the company's performance, and last quarter backed that up.
Profit, meanwhile, got a boost from the corporate tax cuts passed last year in the U.S.. The company's rate fell to 6.4 percent -- half of its rate a year ago -- and it shaved $82 million off its tax bill. The company also announced a $15 billion share buyback program, which will begin when its current $12 billion program concludes in the current fiscal year.
Overall sales were $9.8 billion, surpassing analysts' average estimate of $9.4 billion.
"Everything is pointing in the right direction," said Chen Grazutis, an analyst for Bloomberg Intelligence. "The top line is clicking again, and they are gaining traction with new products."