Gundlach's Line in the Sand for Bonds Looks Far Away
(Bloomberg Opinion) -- The world's biggest bond market is signaling that there are some lines it simply will not cross.
As the first half of 2018 comes to a close, the 30-year U.S. Treasury yield is settling in below 3 percent. It's hugging its 200-day moving average and has remained range-bound for weeks. Since closing once above 3.22 percent, it's never done so again, thereby failing DoubleLine Capital Chief Investment Officer Jeffrey Gundlach's test of whether the bond bull market is dead. That threshold, while still only 0.25 percentage point away, feels far more distant than that.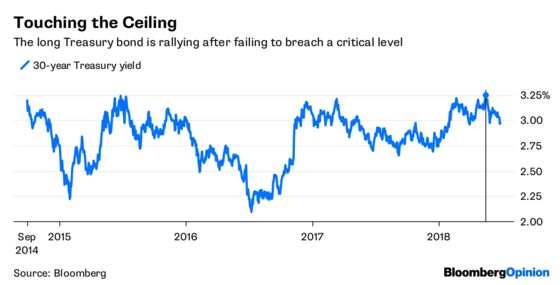 The longest-dated Treasuries, of course, have proved to be the last bastion of bond bulls this year. While other interest rates have marched higher, the lack of a sustained sell-off in the long bond is a big reason the U.S. yield curve is the flattest since 2007. As I wrote last week, the massive corporate pension industry is partially responsible for this trend because they're well funded and seeking to match their liabilities with long-duration assets.  
In that sense, it would be a stretch to call the momentum in the $14.9 trillion Treasury market outright bullish just from looking at long bonds. But there's a growing sense that the sharp increase in yields to start the year might have represented the worst of the feared bear market. BMO Capital Markets and Morgan Stanley said this week that 10-year yields reached their 2018 peak when they touched 3.126 percent in May. Goldman Sachs Group Inc., which called shorting Treasuries one of its top trades for 2018, just closed that bet. 
Granted, the idea of deja vu had been tossed around months ago only for yields to reach new highs. But at least a few things are different this time. For one, the Federal Reserve has raised interest rates twice and boosted its median projection for 2018 hikes, only to see long-term yields shrug that off. Trade tensions between the U.S. and China have escalated, sending the emerging-market world close to an all-out bear market. And the European Central Bank has soothed investors with a pledge to leave interest rates untouched until more than a year from now — a reason German 10-year yields are lower than they were to start the year.
With that in mind, it makes a bit more sense for 30-year yields to be below 3 percent even as U.S. economic growth in the second quarter will probably reach 4 percent or more. The idea of global synchronized growth is quickly turning into one of America going it alone. And if economists' forecasts are to be believed, the domestic fiscal stimulus will merely provide a short-term boost to gross domestic product.
Even if you buy into the notion of a fleeting economic boom, the wild card for bond bulls will be debt supply in an era of diminished central-bank bond buying. Quantitative tightening —  the opposite of the post-crisis stimulus known as quantitative easing — will begin in earnest globally as soon as the fourth quarter, according to some estimates. It's been a long time since traders have had to grapple with net positive bond issuance from the U.S., Europe and Japan. BlackRock Inc. warned a year ago that when it flips, it's bound to cause "indigestion" and restore some term premium back to longer-dated securities.
Whether it's enough to move 30-year bonds past the "mighty" 3.22 percent level remains to be seen. The latest JPMorgan Chase & Co. Treasury client survey showed the largest number of respondents reporting long positions since September 2016, while some of those betting on a sell-off shifted to a more neutral stance. In other words, at least for the time being, it looks as if the bastion will hold.