Dish Holders See Wireless Plans Leaving Them Lost in Space
(Bloomberg) -- Dish Network Corp. bondholders are wondering whether billionaire Chairman Charlie Ergen will leave them stranded as he takes money from the shrinking satellite-TV business to pursue an ambitious wireless venture.
The company's long-term bonds have been sliding toward double-digit yields as satellite TV loses subscribers and earnings deteriorate, while cash flow from that unit is used to fund a push into wireless that has no final plan or partner. The unsecured bondholders are stuck in the declining part of the business, with no claim to the valuable wireless assets that Ergen regards as Dish Network's future.
"They're in a difficult position," S&P Global Ratings analyst Chris Mooney, who rates the company B, said in an interview. "The DBS business has really been subsidizing Charlie's spectrum purchases and his wireless ambitions."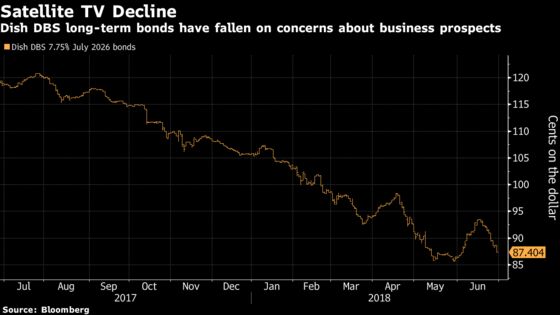 Ergen, 65, has been trying to shift Dish away from the satellite-TV business, which has been hit by cord-cutters who are defecting to online streaming services. Englewood, Colorado-based Dish Network has spent about $20 billion over the past decade to acquire wireless spectrum, but it has yet to be developed and doesn't generate any cash flow, according to Mooney. Dish DBS has made $16.3 billion of dividend payments since 2011 to help fund Dish Network's purchases, Bloomberg Intelligence analyst Stephen Flynn said in a note.
Dish's fate is inextricably tied to decisions made by Ergen -- commonly referred to as just "Charlie" by analysts and investors -- who co-founded the company in 1980 and stepped aside as chief executive officer in December to focus his energy on the wireless expansion. While Chief Operating Officer Erik Carlson has taken over as CEO, he still reports to Ergen, who controls 78.4 percent of the shareholder votes, according to Dish's March proxy statement. Representatives for the company didn't respond to requests for comment.
Ergen is betting on providing Internet connectivity for everyday devices, the so-called "internet of things," and has acquired about $39 billion worth of wireless airwaves. Those airwaves are also ideal for streaming movies or maintaining a cellular signal over long distances. Alternatively, Ergen could package the airwave licenses for a sale to wireless carriers or cable companies.
Dish's satellite subscriber base fell 8 percent, or 987,000, year-over-year in the first quarter, compared to a 36 percent, or 607,000, growth rate for subscribers in Dish's streaming service Sling, according to a CreditSights note.
Revenue declined 5.8 percent to $3.5 billion and a measure of adjusted earnings declined 15 percent to $731.5 million on a year-over-year basis, according to analysts led by Lindsay Gibbons.
The rate of decline for the satellite business -- which supports $12 billion of unsecured bonds -- and the continued spending on wireless will make it hard to cut Dish's $16 billion of total debt. Leverage has risen to above six times earnings and could top seven times on increased wireless spending, according to S&P.
Nevertheless, CreditSights predicts that Dish may need to issue new secured debt out of the Dish DBS business to address upcoming maturities, meaning that the existing unsecured notes would get pushed down in priority in a bankruptcy proceeding. Dish could issue up to $7 billion of secured debt under the company's existing bond indentures, according to S&P's Mooney.
"Business erosion, future structural subordination risk, loose covenants and lack of strategic transparency are headwinds that should price Dish DBS 2026s at a meaningful discount to par," according to the CreditSights. The 7.75 percent senior unsecured bonds due in July 2026 are trading at about 87.5 cents on the dollar to yield 10 percent. By contrast, Dish's 2026 convertible notes located at the parent company are trading at 95.85 cents on the dollar to yield 4 percent.
DISH had $2.1 billion of cash at March 31, but it's already used some of that to pay a 2018 bond. The rest is needed to pay near-term maturities and to fund capital spending, including up to $1 billion to build out out the first phase of the wireless network in 2019, according to S&P.
Ergen has said that phase two of its wireless capital expenditure could cost around $10 billion. Partnering or selling some of its wireless spectrum to a wireless network operator or a tech company may be necessary, Mooney said. Dish needs to start using some of its wireless spectrum by March 2020 in order to comply with FCC rules, or it risks losing the license.
As the satellite-TV business continues to decline and leverage keeps rising, analysts and investors have wondered how Dish will manage keep paying its debt.
"I think we're good stewards of capital, and I hope our bondholders trust us that they're going to get paid," Ergen said on the company's first-quarter call, adding that he means 100 cents of the dollar. "The only way that you can really silence skeptics is to go out and execute, and when we pay back bonds, then whoever is skeptical about that will be incorrect."