Despite Trump, American Support for Legal Immigration Is Growing
About one in three Americans supports increasing legal immigration to the United States, according to a Pew Research Center study released Thursday. Thirty-eight percent said legal immigration should be kept at its current level, while 24 percent said that it should be decreased.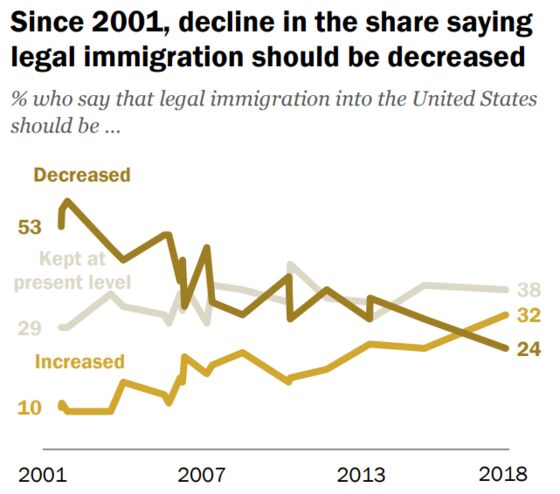 The study highlights a dramatic shift in public sentiment toward legal immigrants since 2001, when the September 11 attacks spurred distrust of immigrant communities among some. Since then, the share of Americans who favor increased legal immigration to the United States has risen from 10 percent to 32 percent. The share who support a decrease in legal immigration has plummeted from 53 percent to 24 percent. 

The Pew survey, conducted in June using a national sample of 2,002 adults, found that the changing views of legal immigration have been driven by liberals. The number of Democrats and progressive independents who believe legal immigration should increase doubled from 20 to 40 percent since 2006.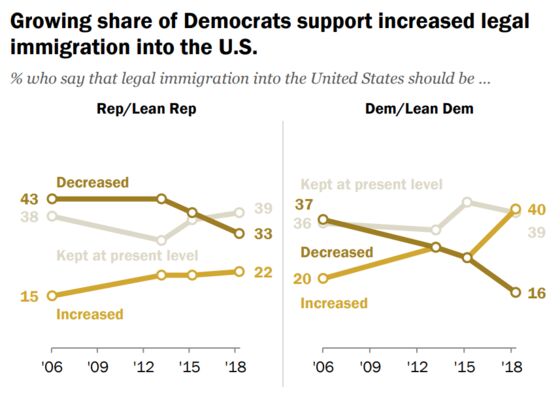 Republican views have also shifted. The share of Republicans who believe legal immigration to the United States should be decreased fell from 43 to 33 percent. Still, twice as many Republicans as Democrats support cutting back on legal immigration. 

"The national conversation has changed a great deal on this issue over the last 15 to 20 years," Carroll Doherty, director of political research at Pew, told Bloomberg. "There's a much bigger partisan gap on this issue than there was in the mid-2000s. Republicans and Democrats used to feel pretty similarly about this issue. But in the last 10 years, Democrats have moved significantly toward supporting legal immigration."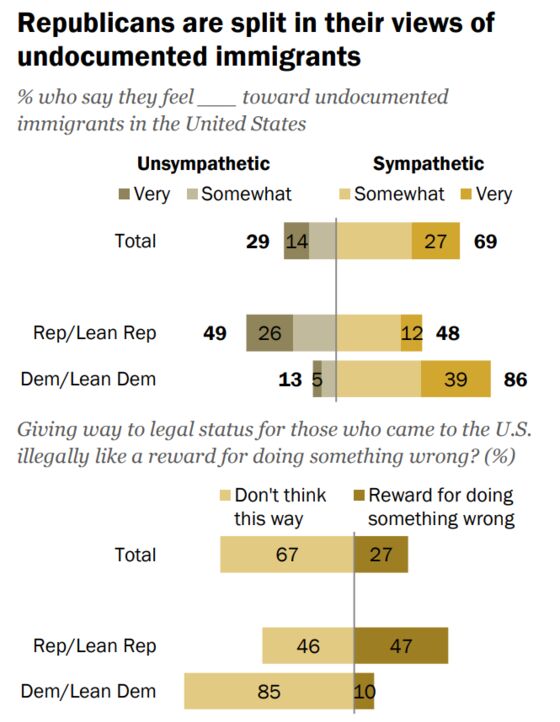 The United States has more immigrants than any other country in the world, 76 percent of whom are in the country legally. But only 45 percent of Americans were aware that the vast majority of immigrants have legal documentation, the study found.
Nearly seven in 10 Americans feel sympathy toward undocumented immigrants living in the United States. Eighty-six percent of Democrats and 48 percent of Republicans said they feel sympathetic. These numbers are little changed since 2014, when a surge of unaccompanied minors from Central America attempted to cross the border.