Canadian Business Sentiment Nears Record Amid Capacity Constraints
(Bloomberg) -- Canadian business sentiment is running at near-record levels with companies facing the strongest capacity constraints since before the recession, according to a survey by the central bank.
The Ottawa-based Bank of Canada's second-quarter survey of executives -- which mostly took place last month before trade tensions escalated with the U.S. -- shows an economy in which companies are finding it increasingly difficult to meet demand, are running up against labor shortages and are finding input costs rising.
While the sales and investment pictures were more mixed, more companies anticipate they'll need to ramp up employment to meet demand. The Bank of Canada's composite gauge of sentiment - - what it calls the Business Outlook Survey underlying indicator -- hit its highest level since 2011 and the second highest since the bank began reporting the data in 2001.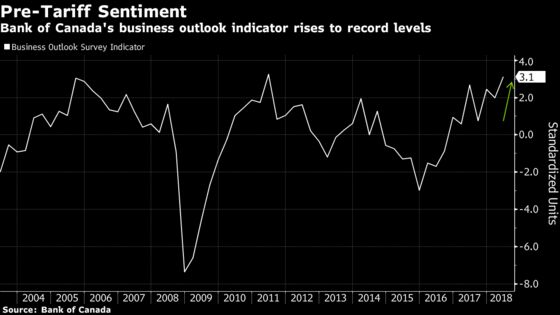 The central bank noted almost all of the interviews took place before the U.S. announced metals tariffs on May 31.
The investment picture was less definitive, even with stronger employment intentions. The share of firms anticipating higher spending on machinery and equipment dropped slightly to 39 percent, about average since 2010, from 44 percent the previous quarter.
The outlook on sales was also mixed. Companies are reporting stronger past sales growth, but their expectations for the pace of sales growth over the next 12 months has slightly weakened. Only 37 percent expect the pace of future sales growth to accelerate over the next 12 months, down from 43 percent.
Indicators of future sales however, like orders, did show an improvement.
The share of businesses anticipating higher employment over the next 12 months rose to 56 percent, from 54 percent the previous quarter. Some 34 percent reported labor shortages, the highest level since 2008
The number of companies reporting at least some difficulty in meeting demand rose to 57 percent, up 10 percentage points from the previous quarter. That's the highest 2007
More companies also reported they expect their costs to accelerate -- 43 percent versus 34 percent the previous quarter
More are also anticipating that stronger demand will allow them to pass on higher costs to customers
Inflation expectations also seem to be edging up, with 65 percent of respondents expecting inflation of above 2 percent, compared with 56 percent the previous quarter, while 58 percent of respondents anticipate inflation of between 2 to 3 percent