Bank of Japan Cuts Bond Purchases Third Time in June 
(Bloomberg) -- The Bank of Japan reduced debt purchases for a third time in June, taking advantage of the recent stability in bond yields and the yen.
The BOJ lowered buying in the five-to-10 year segment by 20 billion yen ($181 million) to 410 billion yen at a regular operation. The yen -- which has in the past shown a tendency to strengthen following a cut in purchases -- traded weaker on Friday. Benchmark 10-year bonds were unchanged.
Japan's central bank is seen continuing with a moderate pace of tapering by some analysts. That's after currency speculators seem to have finally come around to the idea that BOJ's tweaks in regular buying operations need not be seen as a change in its underlying monetary policy.
"It was easier for the BOJ to cut purchases for this maturity as a reduction in this zone earlier in the month caused little impact on the currency," said Takenobu Nakashima, quantitative strategist at Nomura Securities Co. in Tokyo.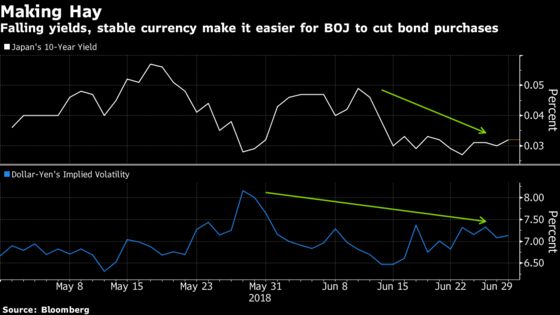 Such stealth tapering has taken the BOJ's actual purchases well below its guideline to buy around 80 trillion yen of Japanese government bonds annually. The central bank added slightly less than 50 trillion yen worth of securities to its balance sheet in the year through the end of March.
Even so, the BOJ is expected by analysts to go slow on tapering and avoid any sudden changes, lest its moves may be seen by markets as an unwinding of monetary stimulus.
The central bank announced its bond-buying plan for July later on Friday, keeping the monthly purchase ranges under different maturities unchanged from June.
"As the BOJ's buying remains within the ranges, lowering them suddenly may spark speculation that it's a policy signal," said Naomi Muguruma, a senior market economist at Mitsubishi UFJ Morgan Stanley Securities Co. in Tokyo. "The BOJ seems to be cautious" of that, she said.
Friday's cut in purchases came as Japan's 10-year yield has been unchanged at 0.03 percent for this week. The BOJ on June 15 downgraded its assessment of inflation and Governor Haruhiko Kuroda repeated his pledge to continue with stimulus until Japan reaches its 2 percent inflation target.
The yen dropped 0.2 percent to 110.67 against the dollar. One-month implied volatility in dollar-yen, a gauge of expected price swings in the currency pair, has dropped to 7.06 percent from a two-month high of 8.63 percent on May 30.
"With expectations for imminent policy tweak receding and with currency market stabilizing, the impact is likely to be subdued if the BOJ moves in response to the tight supply conditions" in the 5-10 and 3-5 year zones, Koichi Sugisaki, a strategist at Morgan Stanley MUFG Securities Co. in Tokyo, said before Friday's reduction.
The BOJ cut purchases in the three-to-five segment on June 14, following a reduction in the five-to-10 year zone on June 1.