The Bond Market's Warning to Italy
(Bloomberg Opinion) -- It wasn't a disaster. That's about all that can be said for Italy's government bond auction on Thursday.
Demand for Europe's most prolific borrower has fallen to a worryingly low level. That will complicate the new administration's efforts to finance its spending plans. Little wonder then that Italian yields nudged slightly higher after the auction.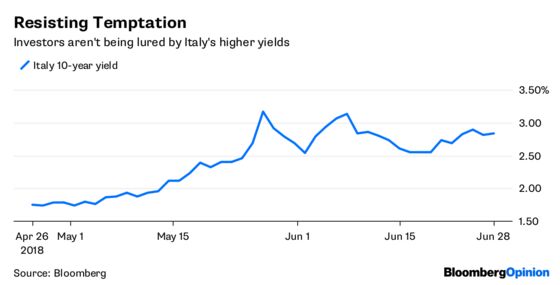 Italy managed to sell all the five- and 10-year securities it offered — after cutting the amount on sale to 4.5 billion euros from an expected 7.5 billion euros. Even then, the volume of bids tendered fell to the lowest this year, only just covering the amount on sale. Investors placed 3.15 billion euros of bids for the 2.5 billion euros of 10-years on offer.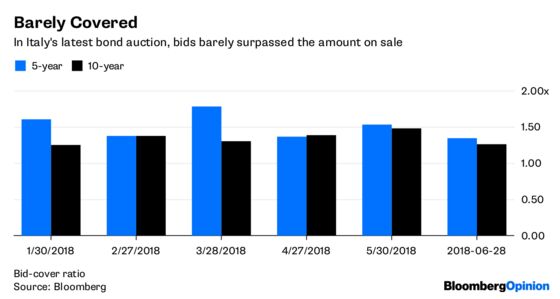 One small positive is that the bonds in the 10-year auction were sold at a slightly higher price compared with the prevailing market price when investors submitted their bids. At May's auction there had been a 25-cent discount.
Italy has at least fulfilled 64 percent of its funding needs for this year. And with no maturing redemptions in the next month there was no supportive reinvestment to bolster demand.
Nevertheless, the volatility of Italian debt makes it difficult for dealers to hold outright and provide the usual buffer between the Treasury's issuing needs and fund managers. The low level of bids submitted and price action following the sale shows demand is soft. If investors start to shun Italian debt in number, expect the country's populists to be brought to heel pretty smartly.