Pound Pundits Say Holding Breath for the EU Summit Is Futile
(Bloomberg) -- This week's European Union summit looks set to be another missed opportunity for pound bulls.
The meeting of European heads of state this Thursday and Friday has been flagged for weeks by pound watchers as a key moment for the currency. But with EU leaders damping down expectations of progress on Brexit and the U.K.'s impending exit from Europe bumped to number four on the summit agenda, strategists now say sterling is unlikely to get meaningful impetus.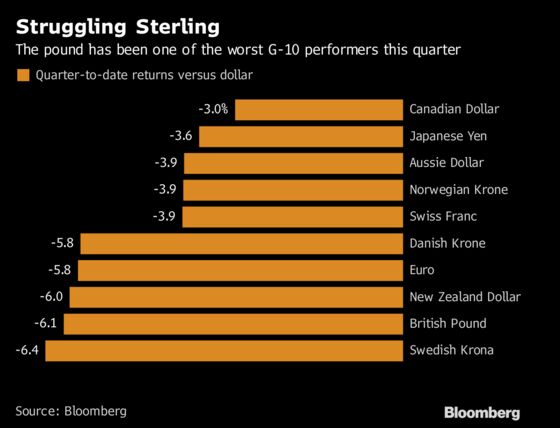 The pound hit a fresh seven-month low on Thursday, falling as low as $1.3066 as trade tensions between the U.S. and China escalated and reports suggested EU leaders are set to adopt a confrontational stance versus the U.K.
"I don't expect any kind of breakthrough at all," said Scott Thiel, deputy chief investment officer for fixed income at BlackRock. "If we don't get any clarity around what the government's actual position is in terms of pushing this forward, we will continue to drift lower."
Investors face a difficulty in predicting which way the currency will be pulled by the conflicting forces of Brexit and Bank of England interest-rate hike expectations. Thiel continues to favor an options strategy on sterling, which would profit from a big move in the U.K. exchange rate in either direction.
Here's what analysts are saying:
Manulife Asset Management
Trading the pound is effectively a binary bet on the outcome of Brexit negotiations, says portfolio manager David Rule
Long-term value models point to the $1.40 area but a negative Brexit outcome would likely see the market move toward last year's lows
Betting on the pound's decline is best done through options, with a "fairly attractive risk-reward profile for buying low delta strikes," he says, referring to options that benefit from outsized moves
"Brexit is a much bigger factor than whether the BOE can hike in August," Rule says. "Unless there is a turnaround in the data then the hawkish BOE stance will be difficult to maintain with the backdrop of Brexit uncertainty"
With the Cabinet meeting next week and the Northern Irish border continuing to be an issue, "it would appear that little can be agreed tomorrow and Friday" writes head of G-10 currency strategy Stuart Bennett
Some pound weakness likely on a lack of progress in the Brexit talks

"We might be entering a period when the market gets spooked about the unknown Brexit outcome"

Sees pound steady around $1.32 by year-end and euro-sterling rising to 93 pence per euro
"Brexit should mainly be put on the backburner and the summit could ultimately prove being a non-event for sterling," writes currency strategist Alexandre Dolci
The next big Brexit event for sterling will be the White Paper on Brexit due in the first half of July
"Any signs of what could be deemed insufficient progress or unrealistic proposals could in turn undermine the pound in the near-term"
Sees range-trading versus euro into year-end, with cable revisiting 2018's highs
"Right now it feels as if investors are in a wait-and-see mode," wrote strategist Thu Lan Nguyen in emailed comments
"We expect a sideways trade in pound exchange rates, so 0.88 in euro-sterling and $1.32 in pound-dollar at year-end"
"We're headed for largely more of the same with euro-sterling," said head of European currency strategy Stephen Gallo
It's likely the negotiations with the EU will "go for the 11th hour"
"Anything that comes out of these discussions will be at most token gestures"
Continues to recommend buying pound toward 87 pence per euro and slightly below, and selling above 88 pence per euro