Trump's Trade War Claims Another Victim in Germany's Osram
(Bloomberg) -- Osram Licht AG became the latest domino to fall in President Donald Trump's trade war, warning that rising tensions are weakening the outlook for the automotive industry the German company supplies with headlights and components.
The announcement on Thursday, sending Osram shares down as much as 23 percent, is part of an almost-daily litany of companies warning of fallout from the U.S. president's push to upend the global trade framework. With rising friction over automotive tariffs high on the agenda of European Union leaders meeting in Brussels, U.S. Trade Representative Robert Lighthizer on Wednesday blasted the bloc's tit-for-tat response to U.S. levies on steel and aluminum.
The casualties are starting to pile up, on both sides of the Atlantic. German automaker Daimler AG last week became the first major company to cut its outlook because of escalating tension. U.S. motorcycle manufacturer Harley-Davidson Inc. followed, saying it will move some production out of the U.S., while Jack Daniel's maker Brown-Forman Corp. said it would raise prices after the EU placed a 25 percent surcharge on whisky imports. On Thursday, Volvo Cars owner Li Shufu said from Hong Kong that consumers will feel the pain of higher costs along with his companies.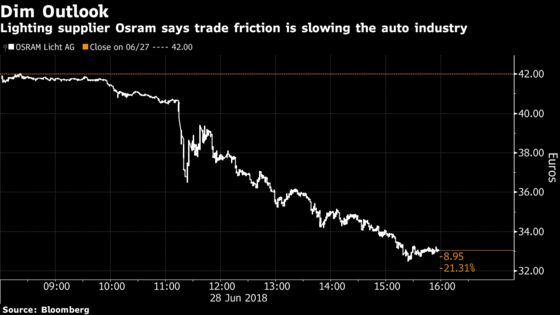 Global automotive manufacturers are particularly at risk from the escalation, having spent billions of dollars in past decades to locate and build plants to maximize returns on existing trade agreements.
While German carmakers like BMW AG and Daimler AG -- as Trump points out -- import thousands of vehicles to the U.S., they also make many sport-utility vehicles in states like Alabama and South Carolina, avoiding a longstanding U.S. import duty of 25 percent on light pickup trucks.
But many SUVs from those same plants are also shipped to China, Daimler and BMW, along with Volkswagen AG, vulnerable not only Trump's suggested 20 percent duty on European car imports to the U.S., but also China's plan to add a 25 percent surcharge to U.S.-made products, a result of U.S.-China friction. Daimler cited the prospect of fewer Chinese customers last week when it lowered its profit outlook for this year.
German carmakers could face extra costs of 4.5 billion euros ($5.2 billion) from a 25 percent U.S. tariff previously floated by Trump, estimates Arndt Ellinghorst, an analyst with Evercore ISI in London.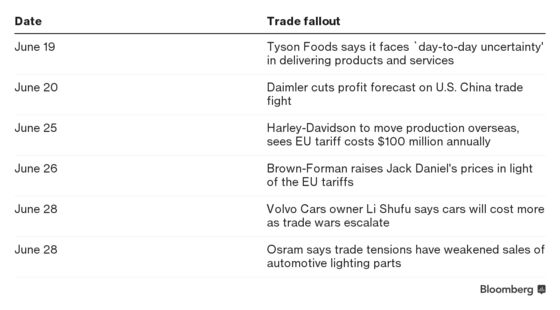 Osram fell the most intraday since November 2015, after cutting its forecast for sales and profit for the year. It was down was down 22 percent to 32.66 euros at 4:25 p.m. in Frankfurt, giving the company a market value of 3.41 billion euros. Other automotive suppliers, including Schaeffler AG and Continental AG, also declined.
"Restrictions on trade and sales, as well as planning risks affecting automotive manufacturers, have created noticeable uncertainty," the Munich-based supplier of lighting equipment to a variety of industries said in a statement. "Business performance will also be affected by the postponement of projects in the areas of mobile devices and horticulture."
Tighter European emissions standards that take effect in the second half contributed to the lower outlook, Chief Executive Officer Olaf Berlien said. Volkswagen AG last week said it would close production for one or two days a week until the end of September on the tighter testing.
Osram has been under fire on multiple fronts ever since Berlien unveiled a strategy nearly three years ago that triggered a boardroom clash and public spat with Siemens AG, which was its biggest shareholder.
In addition to selling off its traditional lamps business, the manufacturer became increasingly dependent on the automotive industry and lighting for buildings and cities. Since the start of the year, the company has warned about flattening car sales in China and currency headwinds, and has put its U.S. lighting-services business up for sale.
Osram now is forecasting revenue growth of 1 percent to 3 percent instead of 3 percent to 5 percent previously. Adjusted earnings before interest, taxes, depreciation and amortization this year will be 570 million euros ($660 million) to 600 million euros, compared with a previous forecast of 640 million euros. It pledged to accelerate cost cutting and a reorganization of its factory alliance.
"It is difficult for us to understand how the situation could have so fundamentally changed less than three months after the previous profit warning, which was already quite meaningful," Morgan Stanley analyst Lucie Carrier said in a note. "We look for more transparency in terms of what is going on in the business and how much control and visibility the company has on their earnings."