Nike Surges Most in Year as Sales Turn Positive in Home Market
(Bloomberg) -- Nike Inc.'s home market is getting its mojo back, and investors are applauding.
The stock surged the most in a year Friday, reaching a record high, after North American sales rose for the first time in four quarters. The results signaled that Nike's new products are catching on with U.S. shoppers and beat the sneaker giant's forecast for unchanged sales in the region.
For more than a year, the Beaverton, Oregon-based company has been promising investors that slowing growth and revenue declines in its largest market were only a short-term trend. Nike said the lion's share of the blame fell on U.S. retail partners, which have been closing stores amid a broader industry retrenchment. It also faces a rejuvenated Adidas AG, which has regained its cachet with consumers.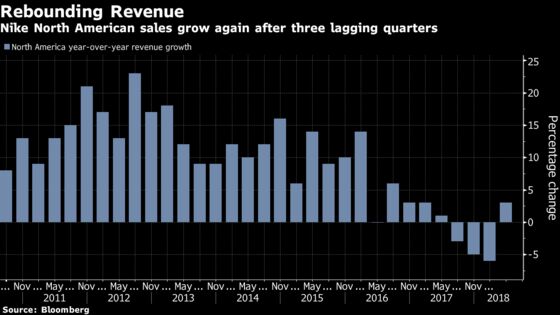 Chief Executive Officer Mark Parker predicted North American momentum will continue through the current fiscal year.
"And I'll put an exclamation point on the product as being a driving force beyond just executing some of the basics better across the board," he said on a conference call with analysts Thursday.
Nike jumped 11 percent to $79.62 at 9:44 a.m. in New York, after a gain of as much as 12 percent, the most in intraday trading since June 30, 2017. That marked a fresh high since the company's initial public offering in 1980.
Rapid growth continued overseas, where Nike generates more than half its revenue. China sales rose 35 percent in the quarter ended May 31, while revenue from Asia Pacific and Latin America gained 12 percent. Sales in Europe, the Middle East and Africa rose 24 percent. A 20 percent spike in apparel sales helped fuel the gains.
Profit, meanwhile, got a boost from the corporate tax cuts passed last year in the U.S.. The company's rate fell to 6.4 percent -- half of its rate a year ago -- and it shaved $82 million off its tax bill.
Overall sales were $9.8 billion, surpassing analysts' average estimate of $9.4 billion.
"Everything is pointing in the right direction," said Chen Grazutis, an analyst for Bloomberg Intelligence. "The top line is clicking again, and they are gaining traction with new products."
Following the results, the company nudged up its outlook for the current fiscal year: Nike is now forecasting annual sales growth in the high single digits, as opposed to a previous estimate for growth in the mid- to high single-digits.
The company also announced a $15 billion share buyback program, which will begin when its current $12 billion program concludes in the current fiscal year.