Currency Strategists Warn Renewed Dollar Optimism Won't Last
(Bloomberg) -- For steadfast dollar bears, a two-month uptick in the currency does not a trend make.
Despite a 5.8 percent advance since March for Intercontinental Exchange Inc.'s U.S. Dollar Index, long-term outlooks are trending downward once again, indicating many strategists aren't buying the greenback's recent rally. In fact, forecasts compiled by Bloomberg suggest the U.S. currency is set to decline by 11 percent through the end of 2019.
The gauge has climbed to the highest since July as trade-war fears escalate and short-end Treasury yields grind higher amid the Federal Reserve's well-telegraphed march toward tighter monetary policy. Yet banks such as BNP Paribas SA and Credit Agricole SA say the factors supporting the dollar could fade into the second half of 2018 and beyond.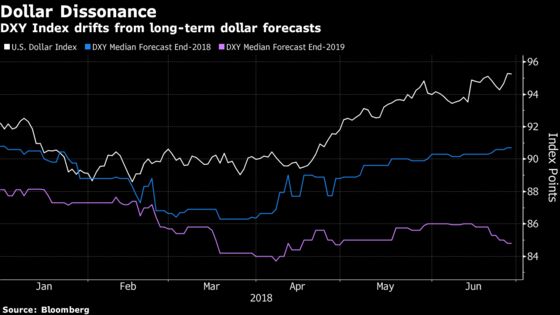 "The big thing driving dollar strength is concerns about protectionism and trade strength," said Daniel Katzive, head of foreign-exchange strategy for North America at BNP Paribas. "This dollar bounce is a significant bounce, but it's part of a cyclical counter-trend bounce in what is a longer-term structural dollar decline. And all the dollar weakness in 2017 was telling us something, that the dollar was structurally vulnerable."
Bloomberg-compiled forecasts suggest that the drift is likely to start this year, with the median prediction for the dollar index indicating a decline of almost 5 percent from current levels by the end of the fourth quarter.
While Credit Agricole has revised higher its near-term forecasts for the dollar on account of trade tensions, Fed policy normalization and repatriation of corporate earnings, the firm said it maintains a "relatively bearish" long-term outlook on the currency.
"We continue to anticipate more USD underperformance on the back of a further flattening of the UST yield curve and concerns about the deteriorating U.S. twin deficits," Credit Agricole strategists led by Valentin Marinov wrote in a note to clients. U.S. protectionism should also add to headwinds for the global economy, the strategists said.