Corporate Bond Issuance Decelerates to Its Slowest Pace This Year
(Bloomberg) -- Sales of investment-grade U.S. corporate bonds are on pace for the slowest week of the year as a flood of debt last week and trade tensions cool demand.
High-grade bond issuance is so far just 6 percent of the low-end projection of $15 billion for the week, and headed for the smallest amount since December, according to data compiled by Bloomberg. No borrowers stepped up on Monday or Wednesday, and Charter Communications Inc. was the only name to announce a deal Thursday.
The falloff in sales is more than just summer doldrums. Last week deals from Walmart Inc. and Bayer AG helped boost total issuance to the most since March at $44 billion. Trade tensions have also pushed investors to the safety of Treasuries, driving the 10-year yield to the lowest since May on Wednesday.
"I think they likely jammed too much supply through last week, and some digestion has to take place, which puts pressure on secondary spreads," said Scott Kimball, portfolio manager at BMO Global Asset Management in Miami. "But more importantly, there has been a significant decline in U.S. benchmark Treasury yields."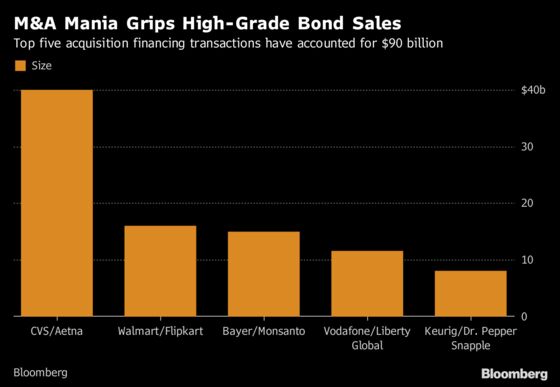 Lower yields are good for corporate borrowers, "but from the buyer's perspective, people are concerned about rates and duration-sensitive credit, which is what IG is," Kimball said.
The secondary market is also under pressure. The Bloomberg Barclays benchmark investment-grade bond index is at the widest level since December 2016, while the cost to buy protection has risen to the highest since March.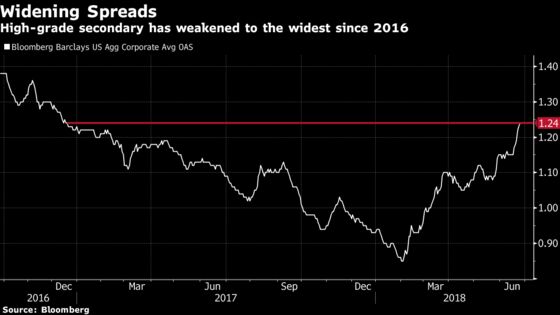 The largest supply has already come and gone, Bank of America said in a recent note. United Technologies Corp. is the only large deal expected this summer and second-quarter earnings season will keep some companies on the sideline, allowing spreads to tighten.