Chipotle Wisely Starts Turnaround With Low-Hanging Tacos
(Bloomberg Opinion) -- If investors had to choose one word to describe Chipotle Mexican Grill Inc.'s latest turnaround plan, they would probably want to go with "unsurprising."
That's no criticism of the ideas unveiled Wednesday evening by new CEO Brian Niccol. Rather, it's a sign that Niccol —  who recently defected from Taco Bell to run its more upscale rival — is prudently looking to tackle problems and pounce on opportunities that have been sitting in plain sight for a long time.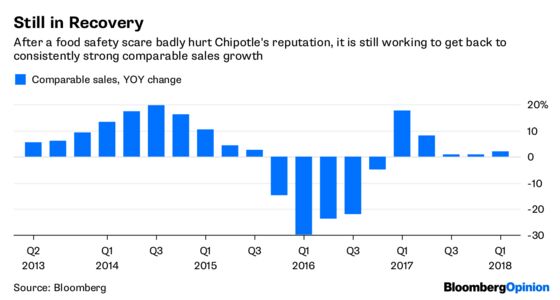 Niccol is putting a heavy focus on digital sales — a smart choice when the dining business is clearly in the early stages of a drastic shift that will favor companies that make delivery and mobile ordering easy. Chipotle pledged to offer delivery within its app from some 2,000 restaurants by the end of the year.
And it is taking some unglamorous but important steps to making sure a surge in digital orders doesn't gum up the works at its restaurants. Niccol said Chipotle was testing self-serve shelves for retrieving digital orders, making it easier for those customers to get in and out of the restaurant quickly. The chain is also rolling out technology that allows workers to assemble digital orders faster — a system that won't require them to squint at small print on a ticket as they assemble burrito bowls.
None of that is revolutionary, but it does offer hope that each Chipotle restaurant will be able to serve more customers and thus become more productive. Niccol said Wednesday that he saw potential for Chipotle to some day hit $10 billion in revenue, more than double last year's sales. Hitting that milestone will certainly require revving its digital engine.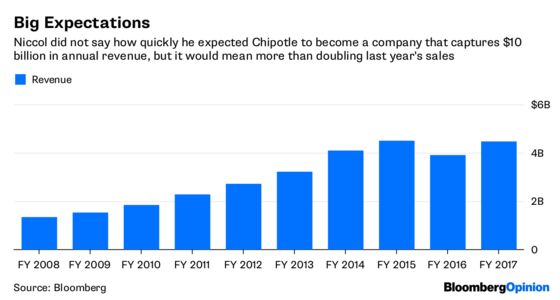 Chipotle is also taking the right approach to rethinking its menu. Instead of running out of the gate with a risky move like starting a breakfast business, Niccol is trying to come up with innovative products to increase traffic during Chipotle's existing hours of operation. The company is testing items such as an avocado tostada, which would freshen its menu without disrupting in-store assembly lines severely. And it's a good idea to try to use the offerings Chipotle already has to pursue customers who just want a quick snack, not a full meal. Niccol said the company was considering a "happy hour" that would include $2 tacos with a drink between 2 and 5 pm.
Finally, executives said they were working to reallocate their marketing dollars so that they spend them more efficiently. Echoing comments he had made in April, Niccol said Wednesday that Chipotle "has been silent and lost some of its cultural relevance."  Indeed, as I noted earlier, consumers' perception of the brand has been pretty stagnant for some time. That is a problem snappier marketing could help fix.
Expectations are running high for Niccol. Chipotle is among the biggest gainers in the S&P 500 Index so far this year, with shares up 58.2 percent through Wednesday's close. (Shares fell in after-hours trading on Wednesday, most likely a reaction to the $115 million to $135 million in restructuring charges the company announced as it moves its corporate headquarters from Denver to Newport Beach, California.)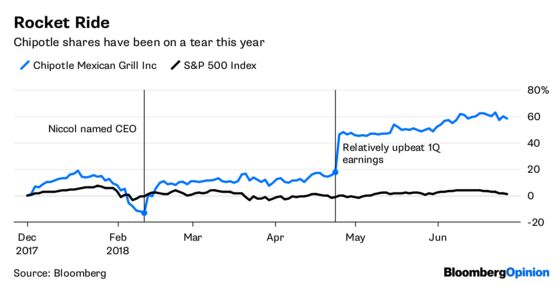 Yet it's commendable that Niccol showed restraint and didn't put forward some daring, swashbuckling turnaround plan. What Chipotle needs most is to do better at the easy stuff.