WWE Hits Record High on 'Transformative' TV Deals
(Bloomberg) -- World Wrestling Entertainment Inc. rocketed up 12% to a record high after the company signed five-year deals with USA Network and Fox Sports to air its marquee programs. MKM Partners called the pacts "a giant step up for WWE" and estimates there will be a 170 percent increase in revenue in the first year. Guggenheim joined in the praise, calling the agreements "transformative" and a "takedown" of the firm's estimates. The news prompted one analyst to regret last year's downgrade: "It was the wrong call," a Citi analyst writes.
Here's what analysts are saying about the report: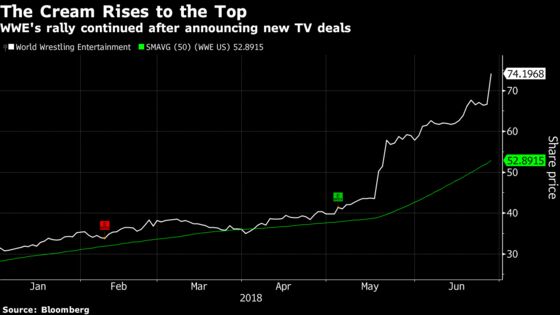 "We still see ample runway in five years when the U.S. rights for RAW and SmackDown are again up for renewal."
"Beyond the U.S. renewals, we continue to see a number of opportunities for WWE including the UK and India renewals," adding that new incremental content deals, WWE Network growth and advertising growth also present potential upside.
Baker wants clarification from management on WWE's capital allocation "given the transformative nature of the U.S. agreements."
Keeps buy rating, raises price target to $82 from $68
"We downgraded WWE from Buy to Neutral late last year. In hindsight, it was the wrong call."
"The announcement is below the most bullish reports but is still materially higher than we expected. From prevailing equity levels, we don't think there's much more upside in WWE's equity"
Maintains neutral, but raises price target to $69 from $43
MKM Partners (Eric Handler)
The TV deals were "larger than expected" with with "potential for even greater profitability with the U.K. and India renewals on the horizon and there is also the possibility of adding on digital programming rights."
"With essentially no debt and a modest $40 million annual dividend payment, WWE should be facing the high quality problem of what to do with its excess cash."
Rates WWE a buy, price target $68, but believes that a $100 or higher price target is beginning to look very reasonable
"With flat renewals, WWE would still exceed our revised expectations; a larger step-up would likely imply upside to our estimates."
"The release does not mention digital streaming rights valuation within the U.S. rights renewals. If there were another window of streaming rights to sell that is not contemplated in the economics outlined, it could provide potential upside."
Wingren believes that "WWE has the potential to invest and set itself up for even more lucrative TV renewals."
Reiterates overweight, with a price target of $71
WWE has 7 buys, 5 holds, 0 sells; average price target $69
Short interest is 14% of floating shares: S3 Partners