Today's World Cup Match Could Cost Germany 200 Million Euros
(Bloomberg) -- German fans watching their team's decisive standoff with South Korea could cost Europe's largest economy as much as 200 million euros ($233 million).
The game -- which will determine which teams move on to the next round of the World Cup -- begins at 4 p.m. Berlin time, when around 30 percent of German employees are still at work, according to the Cologne Institute for Economic Research. If every second person watches the game, with an average of one hour's work being wasted, that could cost the economy between 130 and 200 million euros.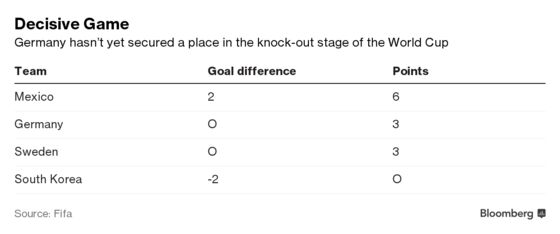 The calculations are based on estimates for labor and holiday costs in Germany, and applied to workers who -- among other criteria -- don't already have part-time schedules or are on vacation. The institute's labor market expert Christoph Schroeder says there could also be positive effects for productivity. According to him, "it's not always all about money, but also about team building."