World-Beating Tunisia May Struggle to Hold 2018 Stock Gains
(Bloomberg) -- The best-performing stock market this year may be running on empty.
Tunisia's main benchmark has advanced 22 percent in dollar terms so far in 2018, the most among major gauges globally. This week marked a milestone when the Tunindex, as it's known, advanced beyond 8,000 points for the first time in a rally fueled mostly by banks and exporters.
Steps by the central bank to counter inflation running at a 25-year high are helping lenders preserve their profit margins, while exporters are benefiting from a plunging dinar.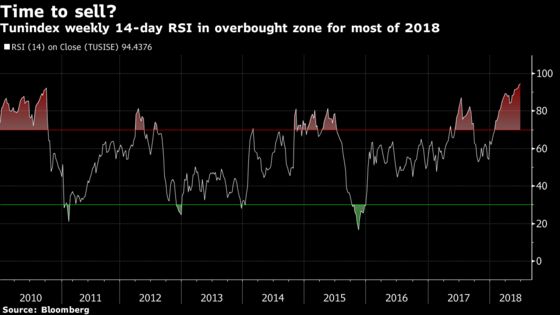 But the alarm bells are ringing, according to equity research firm AlphaMena, which predicts the index could fall about 5 percent from current levels to around 7,690 by the end of the year. The benchmark is poised to rally 5.9 percent this month.
The North African nation that gave birth to the Arab Spring uprisings of 2011 is struggling to revive a crippled economy. As unemployment hovers around 15 percent -- with youth joblessness around double that rate -- and as spending cuts bite, public anger remains high.
"For the time being, the cost of risk is holding up despite a difficult economic environment," said Kais Kriaa, head of equity strategy at AlphaMena in Tunis. Lenders are taking "advantage of the cash-strapped Tunisian government. The rising interest rate environment has boosted banks' interest margin."
But economic prospects remain weak, and current growth levels are insufficient to reduce the high unemployment rate, Kriaa said. "This situation is clearly unsustainable. We anticipate a Tunindex correction as we believe that Tunisian banks will be affected by the economic crisis."
The central bank on June 13 raised the benchmark interest rate 100 basis points amid concerns about inflation, and stressed the need to take "protective measures to minimize the negative impact by modifying monetary policy."
The International Monetary Fund, which awarded the North African country a $2.9 billion loan in 2016, forecasts 2.4 percent gross domestic product growth this year, just half the average expansion estimated for emerging markets and developing economies.
Moody's Investors Service downgraded Tunisia's credit rating in March for the second time in seven months to five levels below investment grade, citing the deteriorating fiscal situation and dwindling reserves that the ratings service said wouldn't rebound significantly in the next several years. The dinar is down almost 3 percent against the euro this year, extending a decline of 18 percent in 2017.
"We expect the dinar to weaken another 6 percent to 10 percent, starting next month, through the end of the year," said Bassem Loukil, chief executive officer of Groupe Loukil, which owns firms in industries ranging from agriculture to automotive and technology.
Tunisian products like car filters, fertilizers, food products, telecommunication equipment and stainless steel have seen an increase in foreign demand, Loukil said. "The problem, however, is that this fuels inflation and impacts local consumption. The only solution is that we export more to overcome this inflation."
Some other facts about Tunisia's equities market:
It's one of the smallest stock markets in the Middle East and North Africa, with a market capitalization just shy of $10 billion. That's almost one-fifth that of Egypt and about 2 percent the size of Saudi Arabia's. But it's bigger than Lebanon's
The weekly 14-day relative strength index for the Tunisian gauge is in overbought territory since January, the longest period since 2010
The Tunindex has closed above its 50-, 100- and 200-day moving averages every session since December
Some optimism is expected to remain toward banks, and food and beverage companies, sectors that were less affected by the economic crisis, said Slim Abdelkefi, a broker at Tunisie Valeurs
Societe Frigorifique et Brasserie de Tunis (SFBT), a beverage producer and the biggest listed company by market value, has climbed 6.2 percent in dollar terms this year as it was able to uphold margins by virtue of its "unique pricing power," AlphaMena's Kriaa said

Buying the stocks of exporters "is the only means to short the dinar," Kriaa said