Turkey Faces U.S. Sanctions Over Russian Missiles
(Bloomberg) -- The U.S. will take the unprecedented step of imposing sanctions on a NATO ally when Turkey receives a Russian missile defense system, according to a State Department official testifying before Congress.
The delivery of the S-400s will impair military cooperation between the U.S. and Turkey and will damage relations between the countries more generally, Wess Mitchell, U.S. Assistant Secretary of State for European and Eurasian Affairs, said Tuesday in testimony to the Senate.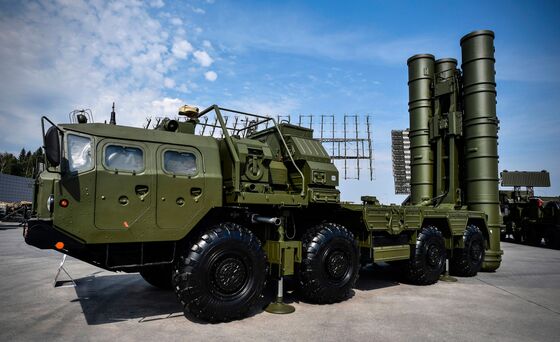 The U.S. has been clear that the "acquisition of S-400 will inevitably affect prospects for Turkish military-industrial cooperation with the U.S., including F-35," Mitchell said, referring to fighter jets that Turkey has ordered from the U.S. "A decision on S-400 will qualitatively change the U.S.-Turkish relationship in a way that would be very difficult to repair."
The U.S. Senate passed a bill last week calling for a freeze of arms sales to Turkey until assessment is made of military and diplomatic ties in light of its potential purchase of the Russian system. The bill also called for assessment of impacts on other U.S. weapon systems and platforms operated and developed jointly with Turkey, including the F-35 Lightning II Joint Strike aircraft.
Turkey has argued that the S-400s aren't a threat to allies and it would prefer to meet its needs within the NATO network. President Recep Tayyip Erdogan has complained repeatedly that he was forced to seek alternatives after facing hurdles in obtaining weapons systems from the U.S. and Europe under the conditions Turkey wanted, which included some local production and transfer of technology.
"It won't be possible for that defense system to categorize allies as foes," Foreign Minister Mevlut Cavusoglu said June 22, arguing that NATO-member Greece also bought a similar missile defense system from Russia in the past.
The purchase has added to a long list of issues that are straining ties between Turkey and the U.S., which claim the two largest armies in NATO. Since a failed coup attempt against Erdogan in 2016, Turkey has been pleading with the U.S. to extradite Fethullah Gulen, an elderly cleric living in Pennsylvania who Turkey says was the putsch's mastermind. The U.S., in turn, has been threatening consequences should Turkey not release Americans imprisoned in the aftermath of the coup, including a pastor and a NASA scientist.
In Syria, the U.S. has backed Syrian Kurds that the Turkish government considers an extension of a terrorist group. Investors in Turkey are also bracing for the possibility of a fine or sanctions against Turkiye Halk Bankasi AS, a state-run lender whose former deputy chief executive officer was convicted in a New York court of participating in a scheme to help evade sanctions on Iran.
Halkbank trades at 0.35 times its book value, the lowest ever. The average for the Turkish banking system is about twice that. In 2007, it traded at a valuation of 10 times its book value.
Erdogan's relationship with Russian President Vladimir Putin is among a host of issues that have frayed relations with the West more broadly. Turkey's bid to join the European Union has "effectively come to a standstill and no further chapters can be considered for opening or closing," the bloc said in a statement following a meeting of ministers in Luxembourg this week.
On Sunday, Erdogan was re-elected president with a five-year term. The election also brings the transformation of Turkey's system of government into one centered around a powerful executive president rather than parliament. The Venice Commission, an advisory body for the Council of Europe, has said the new system leads to an excessive concentration of power. The Organization for Security and Co-operation in Europe said Erdogan won the vote in an unequal campaign skewed in his favor.
Erdogan has lobbied publicly since 2012 for Turkey to join the Shanghai Cooperation Organization, a bloc of countries led by Russia and China.