U.S. Pending Home Sales Unexpectedly Decline for a Second Month
(Bloomberg) -- An index of contract signings to purchase previously-owned U.S. homes unexpectedly declined for a second month in May, reflecting a persistent shortage of available homes, according to data released Wednesday from the National Association of Realtors in Washington.
Highlights of Pending Home Sales (May)
Index decreased 0.5% m/m (est. 0.5% rise) to 105.9, lowest since Jan., after a 1.3% drop
Gauge fell 2.8% y/y on an unadjusted basis after a 0.3% increase in April
The decline last month was concentrated in the South, while the other three regions reported increases. Interested home buyers continue to face strong headwinds from the limited number of affordable housing options, along with mortgage rates that are hovering near a seven-year high. The lack of for-sale properties is pushing housing prices higher while wages struggle to keep up. Nonetheless, a solid job market and lower taxes are padding consumers' pocketbooks and are expected to underpin housing demand.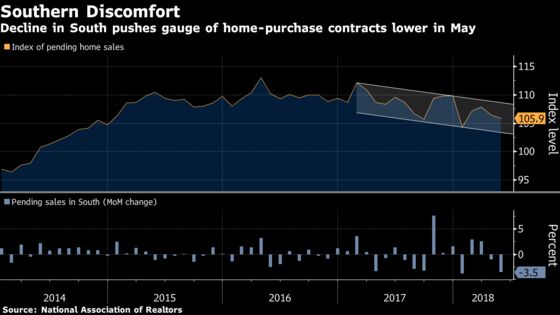 "Realtors in most of the country continue to describe their markets as highly competitive and fast moving, but without enough new and existing inventory for sale, activity has essentially stalled," Lawrence Yun, NAR's chief economist, said in a statement. He now forecasts 2018 existing-home sales of 5.49 million, which would mark a 0.4 percent drop from 2017. Previously he had projected 5.54 million, a 0.5 percent increase.
Signings fell 3.5 percent in South from prior month
Contracts advanced 2 percent in Northeast, 2.9 percent in Midwest, 0.6 percent in West
Economists consider pending sales a leading indicator because they track contract signings. Purchases of existing homes are tabulated when a deal closes, typically a month or two later