RBNZ Keeps Benchmark Interest Rate at Record Low `For Now'
(Bloomberg) -- New Zealand's central bank held interest rates at a record low but signaled it is prepared to cut them if needed as economic growth slows and inflation remains below target.
"The official cash rate will remain at 1.75 percent for now," Reserve Bank Governor Adrian Orr said in a statement Thursday in Wellington. "However, we are well positioned to manage change in either direction -- up or down -- as necessary."
In his previous statement in May, Orr said the OCR would remain at its current level "for some time to come." Since then, economic growth has been weaker than the RBNZ expected and business confidence has slumped to a seven-month low. Those data add to signs that New Zealand's inflation rate will remain below the midpoint of the 1-3 percent range Orr targets for a prolonged period.
"The message is comfortably on hold, but the risks have been shifting to a later start to the tightening cycle," said Nick Tuffley, chief economist at ASB Bank in Auckland. "We also see growing risk that the next move may be a cut, rather than a hike."
New Zealand's dollar was little changed after the statement, buying 68.05 U.S. cents at 10:29 a.m. in Wellington. Orr omitted any comment on the exchange rate, which fell to a two-year low of 67.8 cents ahead of the release.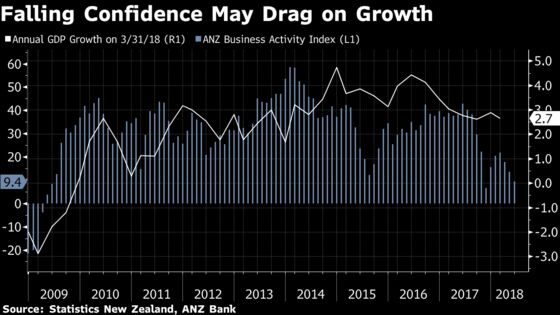 Gross domestic product increased 0.5 percent in the first quarter, slowing from 0.6 percent in the previous three-month period and missing the RBNZ's projection of 0.7 percent. Economists predict growth in the first half will fall short of the central bank's May forecasts but expect the government's welfare spending package, which takes effect July 1, to boost activity in the second half.
"The recent weaker GDP outturn implies marginally more spare capacity in the economy than we anticipated," Orr said. "The government's projected spending impulse is also slightly lower and later than anticipated."
Orr also noted that the global outlook "has been tempered slightly by trade tensions in some major economies."
By highlighting downside risks both domestically and internationally, Orr's statement was more downbeat than expected and indicated a slightly greater risk of a rate cut, economists said.
"We need to be careful to not overplay this, but it does suggest a greater willingness to move the OCR lower if necessary," ANZ Bank New Zealand economists Liz Kendall and Philip Borkin said in a note. While the key message is that rates "will remain low for some time yet," if conditions deteriorated significantly "a cut could eventuate quite rapidly," they said.
In May, the RBNZ signaled that it didn't expect to start raising rates until late 2019. All 17 economists surveyed by Bloomberg expected today's decision, and most forecast the OCR will remain at 1.75 percent until the second half of 2019. The swaps market is pricing no likelihood of a rate cut this year, according to Bloomberg data.
Orr took charge of the RBNZ in late March and today's is just the second rate decision made under a broadened mandate of supporting maximum sustainable employment as well as achieving price stability.
"The best contribution we can make to maximizing sustainable employment, and maintaining low and stable inflation, is to ensure the OCR is at an expansionary level for a considerable period," Orr said.
Slower growth adds to risks that inflation won't pick up quickly. Consumer prices rose 1.1 percent in the year ended in the first quarter. In its May projections, the RBNZ predicted inflation would lift to 1.6 percent by the end of 2018 and wouldn't reach 2 percent until the fourth quarter of 2020.
"Inflation is likely to increase in the near term due to higher fuel prices," Orr said. "Beyond that, inflation is expected to gradually rise to our 2 percent annual target, resulting from capacity pressures."