Goldman Says Take Profit on `Top Trade' Call to Short Treasuries
(Bloomberg) -- Goldman Sachs has closed one of its "Top Trade" recommendations for 2018: shorting Treasuries.
The bank suggested the trade when yields on 10-year securities were at 2.36 percent in November, betting that the Federal Reserve would be more hawkish than the market expected. That panned out, helping push 10-year yields up to touch 3.12 percent last month, before a rally in the market pulled the rate back to around 2.84 percent now. Goldman maintains its forecast for 3.25 percent by year-end.
While 10-year yields have pulled back over the past month, they had been rising fairly consistently since rebounding from a low of 2.01 percent in September, supported by a robust outlook for U.S. growth, firming inflation, and the Fed's commitment to policy tightening. The Fed has already lifted its benchmark rate twice this year, and the latest projections released this month show policy makers expect a further two increases by the end of 2018. Goldman was among those banks calling for a total of four hikes this year even before the median forecast of Fed officials shifted.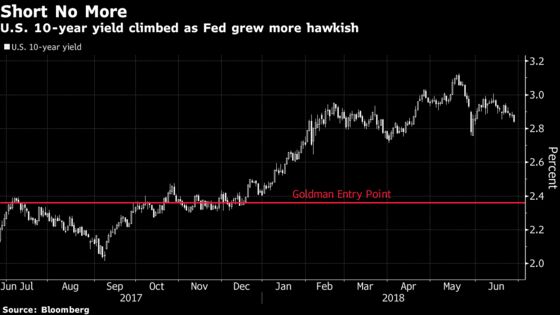 U.S. yields have been weighed down recently by concerns about global trade tensions, in particular the reciprocal implementation of tariffs by the U.S. and China. European Central Bank policy has also played a role in supporting global bond markets and capping yields, with officials this month saying they will keep interest rates at current levels until at least the summer of 2019 even as they outlined plans to halt bond purchases.
"While we maintain our medium-term Treasury forecasts, the near-term outlook for U.S. duration is less certain given stronger forward guidance from the ECB and rising trade tensions," wrote Goldman strategists Danny Suwanapruti and Jonathan Sequeira. "Treasuries are now the closest to our estimate of macro 'fair value' since the fourth quarter 2016."
Some other investors are also showing skepticism about the prospect of higher U.S. yields in the near term. JPMorgan Chase & Co.'s latest survey of Treasury clients showed a 6 percentage point drop in the number of respondents reporting short positions in the week ended June 25. These participants aren't ready to bet on a market reversal, however, as the proportion with long positions remained unchanged.