General Mills, Conagra Try to Make a Balanced Meal
(Bloomberg Opinion) -- A profile of the modern-day food shopper might look something like this: Always on the go. Strives to be healthy. Dog mom. 
That's the backdrop for Wednesday's biggest headlines in the grocery arena. The day kicked off with packaged-food companies Conagra Brands Inc. and Pinnacle Foods Inc. agreeing to a long-speculated merger: an $11 billion wager that the resurgent popularity of convenient frozen meals and demand for plant-based, gluten-free items are here to stay. Shortly after that announcement, cereal giant General Mills Inc. reported results for its fiscal fourth quarter, closing the books on a year during which the $27 billion company got a new CEO and made a pricey acquisition of a pet-food business, part of an effort to move further away from the shrinking cereal market.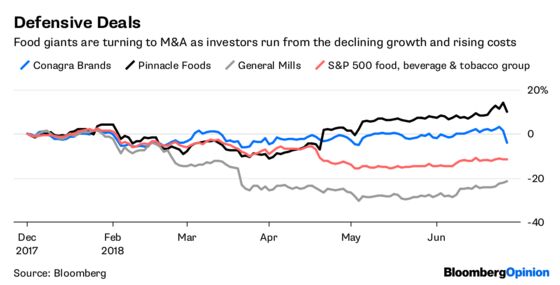 Both General Mills and Pinnacle Foods are responding to a rapidly changing industry, as consumers seek out fresher, less processed items—for themselves and their pets—as well as quick meals that fit their busy lifestyles. Old reliables like Big G cereals and Duncan Hines baking products are getting left on the shelves in grocery stores'  less-trafficked center aisles, while upstart brands make their way into shopping carts. It's not any help that input costs such as shipping have also risen at a time when the companies are limited in their ability to raise prices. That's because supermarket chains are putting pressure on their suppliers as they worry about staying competitive following Amazon.com Inc.'s purchase of Whole Foods.
The traditional leaders of the packaged-food, beverage and household-products industries have been the biggest losers among S&P 500 members in the year since Amazon struck its Whole Foods deal (more on why here). General Mills specifically has been dragged down lately by its $8 billion purchase in February of Blue Buffalo Pet Products, the company's largest transaction in 18 years. As I wrote at the time, General Mills is paying top dollar, but of all the deals it could have done, this one wasn't a bad idea. Pet food is growing faster than most other food categories, according to data from Euromonitor International.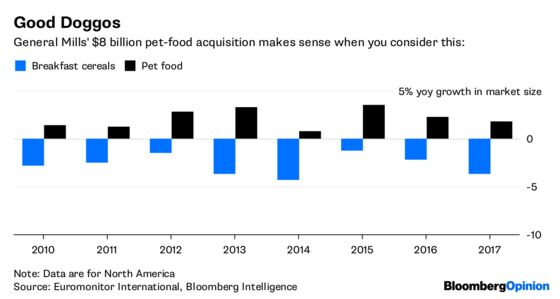 General Mills said sales for its fiscal year were flat on an organic basis, and that they won't be much better this year (excluding the impact of Buying Blue Buffalo,  that is). But CEO Jeff Harmening cautioned that the outlook reflects "the investment we're making to enhance our capabilities and accelerate our growth" to drive returns over the long run. Essentially, he's asking for investors to be patient, and I think that's fair. General Mills would seem to have weathered the storm better than rivals like Campbell Soup Co. so far, and Harmening has done a decent job of managing expectations and articulating how General Mills will transform itself while keeping costs under control.  
As for Conagra, investors are already questioning its acquisition of Pinnacle Foods, which it's valuing at about 16 times trailing 12-month adjusted Ebitda, according to data compiled by Bloomberg. That's higher than a typical takeover multiple, even these days when deal prices are inflated. Still, it's a merger that makes sense.
Conagra and Pinnacle can certainly benefit from more scale, and together they'll have a greater share of the frozen-food market, which has been on an upswing. Conagra owns Healthy Choice and Marie Callender's, while Pinnacle has Birds Eye and Evol, the brand of frozen meals boasting fewer chemicals and hormones, which it inherited from its own takeover of Boulder Brands in 2015. And credit where it's due: Pinnacle has made a big effort to give its products a refresh, introducing Veggie Made pastas and fries made from vegetables, creating better-tasting bread for the gluten-free Udi's brand and giving a makeover to Wish-Bone salad dressings. Deals alone won't set these companies up for the future—innovation is important.
Shareholders may yet need more convincing that General Mills and ConAgra aren't getting in over their heads as they load up with debt to buy growth. But these moves could be helpful to the companies down the road.