ETF Investors Scoop Up Treasuries Fund in Latest Trade Anxiety
(Bloomberg) -- The flight to safety is on, at least for one investor who bought a massive block of an exchange-traded fund stuffed with U.S. Treasuries as the White House moves forward with plans to limit Chinese investments.
The iShares U.S. Treasury Bond ETF, or GOVT, absorbed two sizable block trades Wednesday. At least one was a purchase, where an investor bought 5 million shares worth more than $123 million at 9:45 a.m. in New York. The trades pushed GOVT's volume to $255 million, eight times the daily average for the year.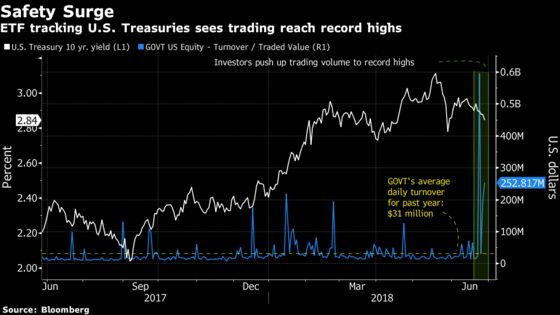 The trades highlight "more of a de-risking that we're going to see as a result of investors moving from higher risk high-yield bonds to higher quality Treasuries, or going from equities and other higher risk assets into fixed income," said Rob McIver, president of Jensen Investment Management, in an interview at Bloomberg's New York headquarters.
GOVT has continued to rake in cash, taking in $603 million in June, which puts it on track to be the best month since January 2017. The fund had a record volume of 24 million shares, worth $596 million, on Friday.