Dallas Leads U.S. Metro Area Job Growth
(Bloomberg) -- The Lone Star state's labor market is shining in the Age of Trump.
Metro Dallas, Texas, gained more than 150,000 jobs since President Donald Trump took office in January 2017, the strongest showing among major U.S. urban hubs, according to an analysis of data from the Bureau of Labor Statistics.
Six other U.S. metropolitan areas scored increases of more than 100,000 jobs, including Houston, Texas. Additionally, on a percentage change basis, Midland, Texas and Odessa, Texas, led the nation with gains of 16 percent.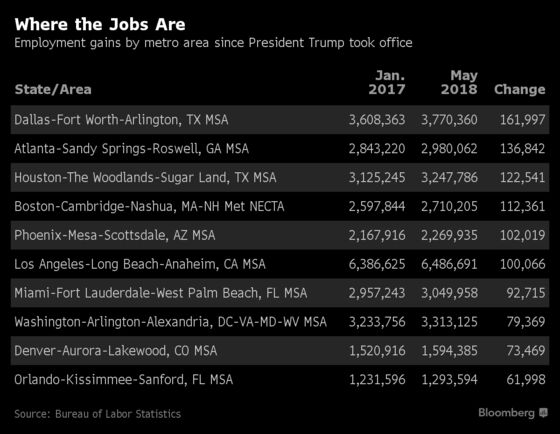 Read More: Employment Change by Metropolitan Area Since January 2017
Nationwide, employment growth expanded in 336 metro areas and contracted in 59. The 50 largest saw a gain of almost 2.2 million jobs on an aggregated basis -- accounting for 70.9 percent of the nation's overall growth. The top 10 accounted for more than a third.
See More: U.S. Cities Labor Market Improvement Ranking
(Demographic Trends is a series of occasional articles examining population shifts ahead of the 2020 Census.)