Suspended Audi Chief Faces at Least Another Week in Jail
(Bloomberg) -- Rupert Stadler, Audi's suspended chief executive officer, is facing at least another week in a German prison over the carmaker's diesel scandal, as an ex-manager who oversaw engine development was released on bail after nine months.
Defense attorneys and investigators scheduled meetings to allow Stadler to answer questions for next week, and he will remain in custody for now, Karin Jung, spokeswoman for Munich prosecutors said in an interview. Former Audi manager Wolfgang Hatz, who worked closely with Stadler, was released Tuesday on 3 million euros ($3.5 million) bail.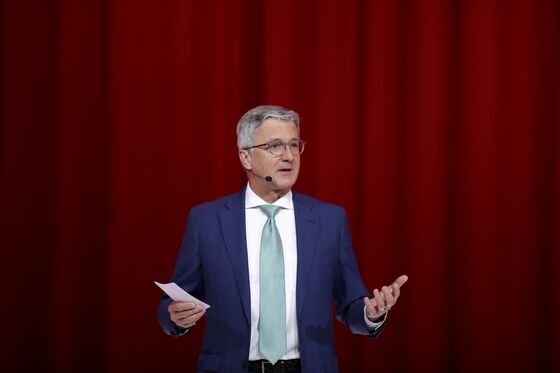 Stadler, who became a suspect in the probe at the end of May, was arrested a week ago. He was first questioned June 20, but the interviews were adjourned to allow his lawyers to assess the evidence before deciding whether to resume talks.
In his first interrogation, prosecutors had quizzed Stadler over the fraud allegations against him and their suspicions -- from a wire tapped phone call -- that he threatened to suspend an Audi employee who had testified in the criminal probe, two people familiar with the case have said.
The arrest of the 55-year-old marks the highest-profile detention since Volkswagen AG's cheating scandal erupted when the carmaker admitted to a worldwide scheme that rigged 11 million vehicles to bypass emissions tests. Volkswagen has rejected claims that top executives including Stadler were aware of the criminal scheme that stretched nearly a decade.
Stadler is being investigated over allegations he didn't intervene when he learned about the use of a defeat device in 2015. As a result, Audi continued to sell rigged cars, which constitutes fraud, according to investigators. The manager is also probed for manipulating public records as the vehicles were given official certification that they complied with emission regulations.
In cases other than murder, German law allows the detention of people who haven't been convicted only if it's necessary to protect the probe, and only if the evidence against them is strong. Usually, courts authorize pre-trial custody if the suspect is a flight risk or, like in Stadler's case, if they are concerned that he may tamper with evidence. Stadler is suspected of planning to suspend a witness in the probe.
While suspects can't be made to testify in their own case, they can opt to talk to prosecutors, and if they are in custody, that is often a way to get released. If prosecutors are convinced the testimony eliminates the risk of evidence tampering, they usually free the suspect. German defense lawyers are critical of the practice as it can indirectly coerce the suspect to talk.
The strategy doesn't always work out, as Hatz's case shows. The former Audi manager -- who ran VW's motor development from 2007 to 2011 -- was taken in custody in September. He initially declined to talk to investigators, and when he later did, prosecutors didn't feel they got enough information. Challenges against his detention were rejected by several judges until Tuesday, when the Munich appeals court changed its assessment and allowed him out on bail.
The appeals court said that Hatz must turn in his passport and cannot leave the country, his lawyer Peter Gauweiler said. The ex-manager was ordered not to contact other witnesses in the probe.
In recent weeks, Hatz underwent surgery in a hospital while under guard, and is currently in a rehabilitation clinic. His health situation may have helped change the judges' view on his detention.