GE's Profitable Health-Care Unit Is Getting New Life as Standalone
(Bloomberg) -- Health-care investors will soon get a huge new company to trade.
General Electric Co. announced Tuesday that it plans to spin off its medical division into a separate company. Based on the valuation of peer companies, the new entity could have a enterprise value, which includes debt, of between $65 billion and $70 billion, according to Karen Ubelhart, a Bloomberg Intelligence analyst. That would rank it among the biggest health-care companies in the world.
Over the next 12 to 18 months, GE said it will sell 20 percent of its GE Healthcare unit and spin off the rest to its shareholders tax-free. The unit, which generated $19.2 billion in revenue last year, is involved in everything from medical-imaging and monitoring devices to biomanufacturing and cell therapy.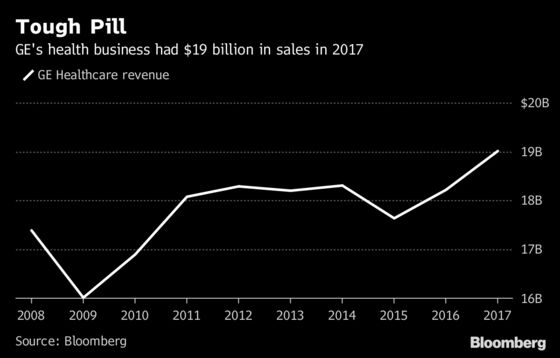 With business in 140 countries, GE Healthcare is the company's second-most-profitable division, generating $3.4 billion in earnings in 2017, a figure exceeded only by the aviation unit. Kieran Murphy, the chief executive officer of GE Healthcare, will continue to lead the unit as a standalone company, which will still be operated under the GE brand.
"As an independent global health-care business, we will have greater flexibility to pursue future growth opportunities, react quickly to changes in the industry and invest in innovation," Murphy said in a statement.
GE's healthcare unit spin-off mirrors the strategy adopted by Siemens AG. The Munich-based conglomerate, GE's biggest competitor, sold shares of its health-care subsidiary Healthineers in March. It was Germany's second-biggest initial public offering in almost two decades. The share price for Healthineers has since climbed more than 16 percent, bringing its market cap of $41.3 billion.