Turkey to China, Bear Markets Spread Across Emerging World
(Bloomberg) -- The decline in emerging-market stocks isn't a misstep anymore. It's now a full-blown plunge.
With China, the world's second-biggest stock market, extending its losses from a bull-rally peak to 20 percent, as many as six equity exchanges worth a combined $8 trillion are in a bear market. The benchmark index for the asset class is a whisker away from the threshold.
Two eastern European nations are also heading for a bear market, while 10 other markets have crossed the half-way mark, a correction of 10 percent from their highs.
Bear markets are a key signal for trend reversals as investors use them to verify whether the previous bull market has ended or the sell-off is just a correction in a rally. In the latter case, the 20 percent loss threshold acts as a bounce-back point.
Here's the state of play in emerging markets:
When the slump began in late January, after a two-year, $8-trillion rally, some investors expected deeper losses in markets with the highest valuations. But in the past five months, the biggest declines have come from markets with price-earning ratios that are below the emerging-market average.
In the chart below, only the Philippines has a greater P/E multiple than the MSCI Emerging Markets Index's 11.2, with a valuation of 15.1. The other nations have multiples ranging from 6.3 to 10.6.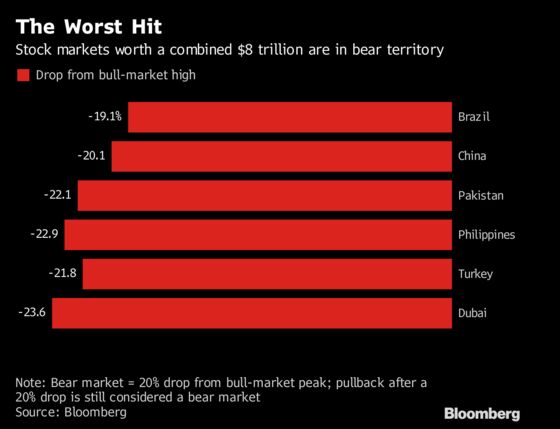 The idea that some markets are more vulnerable than others is being challenged as stock losses spread across developing nations. Four of the 10 countries in correction are in Asia, showing that even stronger economies are victims of poor sentiment.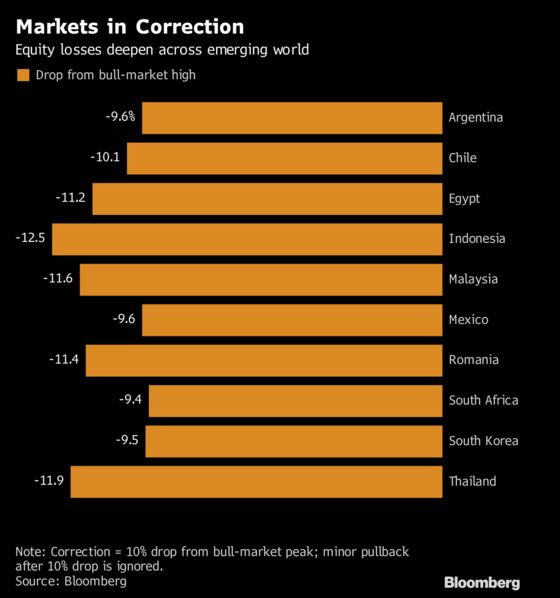 With losses exceeding 15 percent, Hungary and Poland are the closest to the bear-market threshold among developing nations.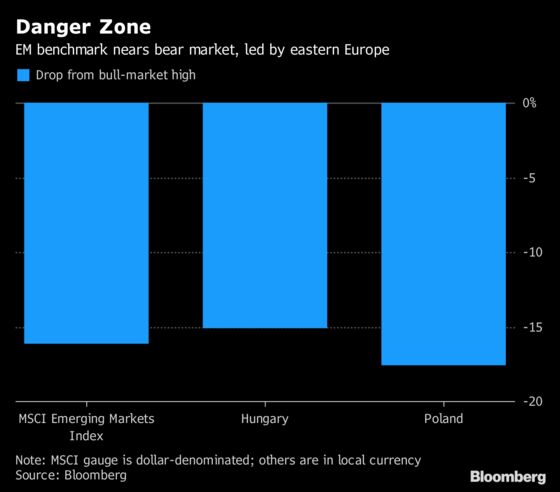 But the nine that are still in a bull market are limiting losses for the emerging-market gauge. No common theme connects them, but they leave a chance that this sell-off may still be a pause, rather than a full-fledged slump.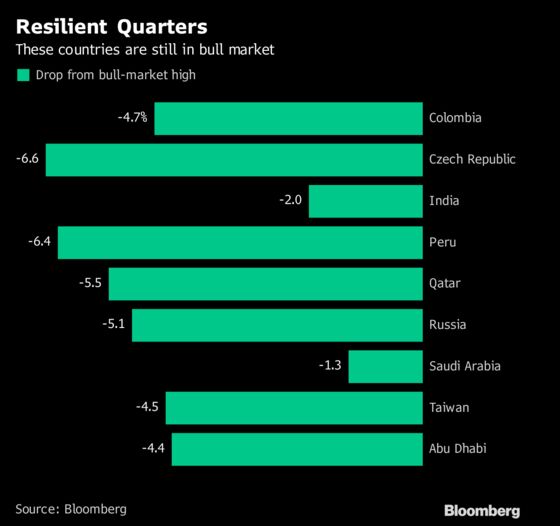 The MSCI emerging-market gauge fell for a second day toward the lowest level since August last year.