Fed's Rorschach Tests Just Baffle Bond Traders
(Bloomberg Opinion) -- It turns out U.S. inflation isn't going up much if you exclude things that are going up in price, especially ones on which Americans spend much of their income.
That, essentially, is the argument from Fed Up, an advocacy group focused on monetary policy. As Bloomberg News's Matthew Boesler reported on Monday, they're presenting a paper on U.S. housing inflation to Federal Reserve Bank of Atlanta President Raphael Bostic later this week. The thesis is that because shelter costs are accelerating faster than the rest of the economy, central bankers are raising interest rates more than they should be. Excluding food, energy and shelter, U.S. inflation is about 1.4 percent, a far cry from the central bank's 2 percent target.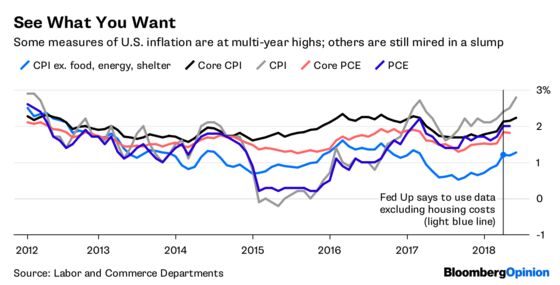 Of course, Bostic's meeting with the group doesn't signal any imminent shift in the Fed's thinking. After all, his background is in housing economics. As Boesler's article points out, his most widely cited work is a 2007 paper examining the effects of housing wealth on consumer spending. These are his people.
At the same time, taking the meeting gives an air of legitimacy to their idea of depressed inflation just as Fed officials are signaling they're content with where price growth is headed. The most recent Federal Open Market Committee statement removed language arguing that "market-based measures of inflation compensation remain low."
And for bond traders, it may only serve to add to the confusion around which inflation data should receive the most attention. The consumer price index is the most frequently cited, and what determines the principal of Treasury Inflation Protected Securities. But the Fed  prefers the personal consumption expenditures price index. Yet even knowing that, investors have to distinguish between the gauges that include everything, versus "core" CPI and PCE, which exclude food and energy.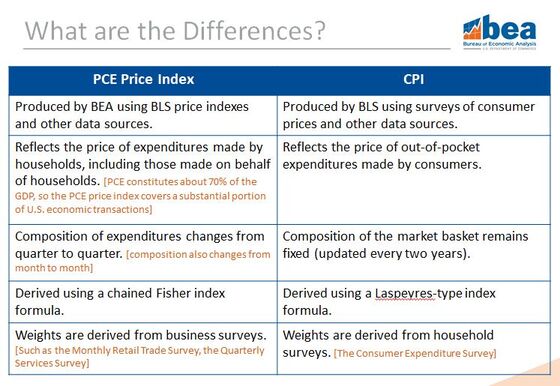 All these measures just create noise around what truly matters for the Fed: wage inflation. The change in average hourly earnings, which is reportedly monthly in conjunction with payrolls, is perhaps the most widely anticipated measure of the economy now. That's because with the U.S. unemployment rate matching a 48-year low, investors and central bankers alike would expect to see companies start to pay more to either lure workers away from their current jobs or to retain their employees. 
So far, wage growth has been good enough to keep the Fed on its gradual rate-hike path. But it's still unspectacular overall, barely above its three-year average. That explains why the Treasury yield curve from two to 10 years reached its flattest level since 2007 this week. Short-term rates are going up, sure. But long-bond yields are anchored, in no small part because market-based inflation expectations have gone nowhere for months. After the 10-year breakeven rate reached 2.2 percentage points in May, the highest since 2014, it swiftly retreated back to the middle of its 2018 range. 
Fed Up, the group meeting with Bostic, would argue even that overestimates the U.S. inflation rate. It will discuss a paper by Dean Baker, co-founder of the Center for Economic and Policy Research, a Washington think tank. Among its conclusions: "If shelter costs are removed from core measures of inflation there is zero evidence of any acceleration in the inflation rate" over the last five years. The increase in housing costs is because of "restrictive zoning practices in a limited number of highly desirable metropolitan areas that have limited the supply."
Calling out coastal cities has some merit. But still, excluding housing entirely seems extreme. If you're trying to paint an accurate picture of how price growth is affecting Americans as a whole, certainly a big-ticket item like shelter needs to be a factor. 
No one measurement of the world's biggest economy is perfect. But for bond investors who scrutinize the minutiae of inflation and use that analysis to determine what to buy, the most important thing is that the Fed doesn't move the goal posts. Bostic, a FOMC voting member this year, should remember that when he hears out Fed Up.