Brexit's 'Death by a Thousand Cuts' Has U.K. Automakers on Edge
(Bloomberg) -- Prime Minister Theresa May's chaos-stricken U.K. government risks slowly suffocating investments for car manufacturers desperate for clarity post-Brexit from a party that calls itself pro-business.
That's the stark assessment of Mike Hawes, chief executive officer of the Society of Motor Manufacturers and Traders, who took a jab at May's widely-debunked promise that there will be extra money to spend from the contributions that Britain stops making to the European Union budget when it leaves the bloc on March 29, 2019.
"There is no Brexit dividend for our industry," Hawes told the trade lobby. The U.K. "could see a gradual reduction in their competitiveness, which makes it harder to secure the next model. It's more like death by a thousand cuts."
For car businesses the debilitating effects of Brexit won't be sudden or dramatic but more of a slow drain that will sap an industry that powers about 10 percent of the U.K.'s economy.
The comments, echoed by executives from BMW AG, McLaren Automotive Ltd. and, in another key manufacturing industry, plane maker Airbus SE, are raising the heat on May. Her government has been at war with itself for more than a year over what it wants from Brexit -- frustrating negotiators in Brussels and exasperating businesses to breaking point.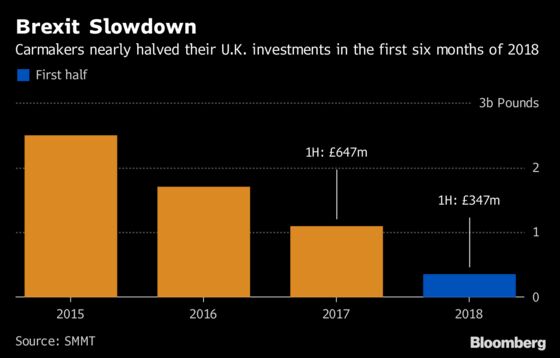 She has failed to provide any answers on what kind of customs arrangements it will pursue, and these matter enormously to companies with complex supply chains that need to calculate months and years ahead what kind of customs checks and tariffs will be in place.
Speaking at the Times CEO Summit, May promised businesses the details they hanker for in July in a government report known as a "white paper." She told them that "it's right that business is able to make its voice heard," a passing reference to the fact that she's aware of the chorus of protests.
It remains to be seen if words of assurances such as these -- "a Conservative government will always listen to your voice and back you every step of the way" -- are enough. Companies are looking for something more concrete.
"The prospect of no deal is real so all businesses can plan for is a hard Brexit," Hawes said. The government's "red lines" on Brexit, of being outside the single market and the customs union, "go directly against the interests" of the automotive industry, he said.
In recent days, Airbus and BMW have also warned they may have to back away from the U.K. if Brexit causes production delays. Investment in new models, equipment and facilities in the U.K. fell to 347 million pounds ($459 million) in the first half of this year from 647 million pounds a year earlier, as manufacturers held back on making investment decisions the SMMT said.
The malaise has extended to the services industry, which is by far the biggest driver of economic growth and that has been feeling left out of the discussion. The European Services Forum -- representing banking, media and telecommunication -- complained in an open letter that "goods-related issues seem to have dominated the debate."
The group, whose members include HSBC, BT Group Plc and Deutsche Telekom AG, warned that a badly-executed Brexit risks "major disruption" and that even a 21-month transition period is unlikely to be long enough.
The Conservatives takes pride in being the party of business, which is why the corporate world has been all the more dismayed. The response of Boris Johnson, the country's top diplomat, to the fears of business leaders is telling. At a reception celebrating the Queen's birthday he was widely reported to have told EU diplomats: "F*** business.'
The government cannot afford to dismiss those concerns, and May is due to give a speech to the titans of business in the next hour. Some, like Tony Walker, managing director of Toyota Motor Europe in London, are willing to give her a bit more time.
Asked about decisions to move manufacturing: "We're not speculating about the future - let's see what happens in October. We're expecting clarity by October. That's the political timetable for a withdrawal agreement."