Brexit Bulletin: A Chorus of Disapproval
(Bloomberg) -- Today in Brexit: As the U.K. prepares for an EU summit this week, another company has a warning for Theresa May.
Big business is turning up the heat on Prime Minister Theresa May.
BMW AG became the latest company to say it will have to pull back on investment in the U.K. if a Brexit deal isn't reached that ensures goods can flow freely to the European Union, following a similar outburst by European planemaker Airbus last week.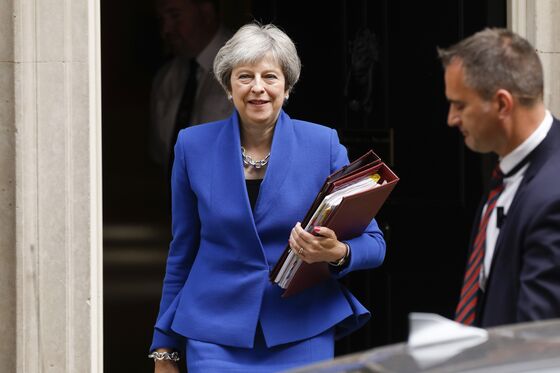 The warnings come amid mounting signs that firms are becoming more outspoken in their criticism of May. The U.K.'s five main business lobbies used the second anniversary of the referendum on Saturday to urge her to make progress in the negotiations or risk losing jobs and investment. Away from Brexit, even a vote on Monday to add a third runway at Heathrow Airport was greeted with some skepticism by British Airways, the hub's biggest customer, even though government officials hope it will create thousands of jobs in the critical post-Brexit period.
In a statement on Monday, BMW said:
"The ongoing uncertainty surrounding the Brexit negotiations is not helpful when it comes to making long-term business decisions. In particular, the lack of clarity surrounding future customs arrangements remains a cause for concern."
The carefully worded comments were issued in response to a Financial Times interview with BMW's customs manager, Stephan Freismuth. His language was more blunt, saying the carmaker would be forced to review production at its four U.K. plants if goods are stopped at the border under future customs rules. In that scenario, "then we cannot produce our products in the U.K.," he told the newspaper. Another BMW executive told the BBC on Friday that the carmaker will start making contingency plans next month.
The warning by Airbus SE last week exposed another divide in the ruling Conservative Party. Health Secretary Jeremy Hunt told the BBC on Sunday that it was "completely inappropriate for business to be making these kinds of threats," while Foreign Secretary Boris Johnson was reported by the U.K. media to have been less than diplomatic, dismissing the concerns of business with a four-letter expletive.
Business Secretary Greg Clark was more circumspect before lawmakers on Monday, as he sought to offer reassurance that the government is listening. Clark said any final deal should ensure no tariffs on components, no "unnecessary friction" at the borders and the easy movement of skilled workers within multinational companies.
The U.K. is likely to hear more of the same at an EU summit in Brussels later this week, where the bloc is expected to call for more contingency planning from its remaining members for a no-deal outcome. French Finance Minister Bruno Le Maire said this week that time is running out for an orderly Brexit deal, and that it is a concern.
Banks' preparations for the U.K. crashing out of the EU without even a transitional deal are "inadequate" and must be stepped up, the bloc's top bank regulator said.

The Tories' response to Airbus shows they are no longer the party of business, according to Bloomberg Opinion's Chris Bryant.
Overnight Talks | May has called an overnight meeting next week to finalize the Brexit white paper to be published on July 9, Sky News reported yesterday. July 5 and 6 have been "penciled in" but have yet to be confirmed for the meeting at May's Chequers country retreat.
Tusk Meeting | Theresa May and European Union President Donald Tusk met at Downing Street on Monday and discussed this week's upcoming EU summit in Brussels. Tusk said that after England's World Cup match win over Panama on Sunday the premier was in a "much better mood" than he was: His native Poland lost 0-3 to Colombia. He added that the two were "dealing with something much more difficult than the game against Panama."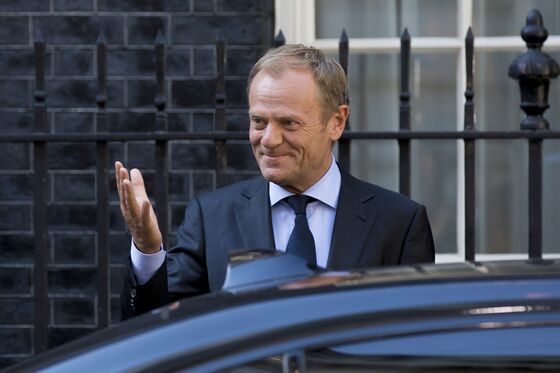 Coming Up | The EU general affairs council in Luxembourg is due to meet to sign off on the conclusions for this week's summit. The Brexit section is due to start at 7 p.m., and EU chief negotiator Michel Barnier will give a press conference following the meeting.
 A Song For Europe | Matthew Herbert's Brexit Big Band, a group of musicians committed to healing divisions between the U.K. and the EU, is kicking off another European tour this week that will take them to Berlin, Leipzig and Rome.
"Two years in and there's still no plan from the government and we're only a few months away now,'' said band leader Herbert. "It's embarrassing, disheartening and utterly devoid of a positive vision for the kind of place we might want Britain to be. This is where the Brexit Big Band comes in."