'Broke and Rundown' New York Emerges as Hot Art Trend in London
(Bloomberg) -- A 1982 painting by Jean-Michel Basquiat fetched 14.7 million pounds ($19.4 million) at Sotheby's in London Tuesday.
The untitled work depicting an orange head led a group of 23 lots sold by movie producer Michael Lynne, according to a person familiar with the matter, who asked not to be identified discussing confidential information. The painting, which was offered at auction for the first time and surpassed the high estimate of 10 million pounds, had remained in the same collection since 1998, according to Sotheby's.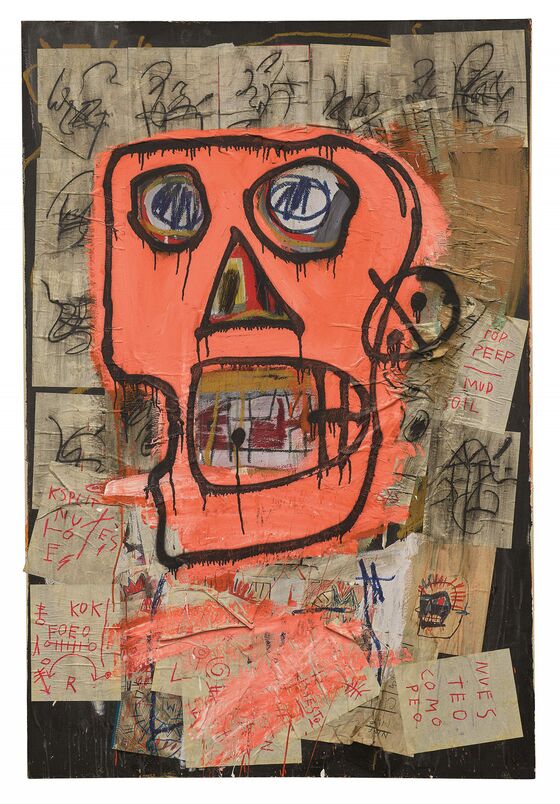 "In the late 1970s, New York was a city in decline," the auction house said in a statement about the group of paintings. "Half-deserted, broke and rundown, it was the perfect breeding ground for a revitalized creative scene that reasserted the city's position at the center of the art world."
Many of the artists in Lynne's trove, including Basquiat, were influenced by that era, which was defined in part by graffiti, hip hop, gay activism and feminism, according to Sotheby's.
Ten of Lynne's lots sold for a total of 22.5 million pounds during the evening auction of contemporary art, topping the high presale estimate of 16.1 million pounds. An additional 13 works he owns are being offered for sale Wednesday at Sotheby's.
Lynne, the former co-chairman of New Line Cinema Corp. who produced Lord of the Rings films, didn't immediately return a call seeking comment. Sotheby's declined to comment on the identity of the seller, describing the group as "property from a private New York collection."