Uruguay Trump Tower Has Issues, Least of Which Is Trump
(Bloomberg) -- The developer behind the only Trump-branded project still under construction in Latin America says he'll barely eek out a profit on the luxury tower he's building in Punta del Este, Uruguay.
YY Development Group, the company behind the 25-story tower that's licensing the Trump name, had sought tax breaks under a government program aimed at boosting the nation's struggling construction industry. But the government turned down its request because the project officially started before the aid package was introduced, said Felipe Yaryura, an executive partner at the firm.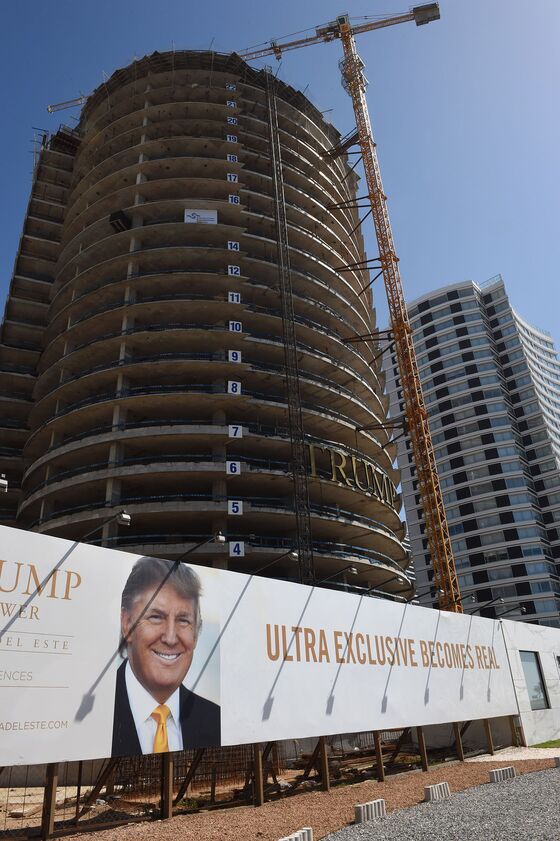 Yaryura is confident he and about 40 other investors who put down $20 million on the project six years ago will see a return when it's completed in early 2020. He forecast sales of as much as $160 million.
Eric Trump, executive vice president of the Trump Organization, said the project sporting a heliport and indoor professional tennis court will be an "icon in South America and beyond." Even so, it's not exactly what developers had envisioned when they first started planning the project.
Construction on the cylindrical tower started in 2014, a year behind schedule, after sluggish sales prompted YY Development to recast the project with smaller and more-affordable units. Meanwhile, it faces competition from cheaper apartments that did qualify for the tax breaks, while key buyers in neighboring Argentina struggled through years of inflation and currency controls. Punta del Este is like the Hamptons to Argentina's elite, with about three-quarters of tourists hailing from that nation.
While hotel owners in Toronto and New York have removed the Trump name amid concern that the U.S. president's reputation could hurt demand, YY Development plans to keep the ostentatious letters on the tower.
"The things that went wrong had nothing to do with the Trump brand," Yaryura said. If anything, it helped YY Development sell more than 130 of the project's 154 units, he said.
"If it was up to me," he said, "I'd do another Trump building tomorrow without a doubt."