Mr. Kipling's Exceedingly Activist Nemesis
(Bloomberg Opinion) -- Two years after a company rejects a takeover approach as too low, its shares are languishing well below the price dangled by the bidder. Eventually, there has to be a reckoning.
That moment has come for Premier Foods Plc, the British maker of Mr. Kipling cakes and instant gravy that was targeted by U.S. food group McCormick & Co. back in March 2016.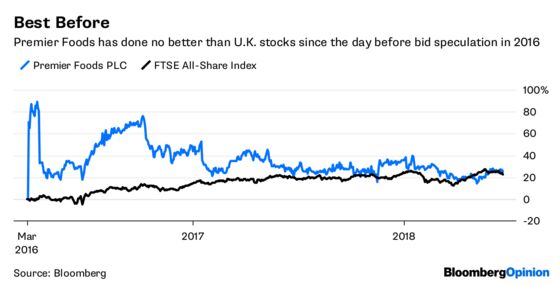 Hong Kong-based Oasis Management Co., Premier's second-largest shareholder, wants CEO Gavin Darby out. The charge? He mishandled McCormick's approach and failed to deliver on promises made at the time. A calorific pay packet makes matters worse.
When McCormick came knocking, Premier seemed to handle things well. Resistance secured two sweetened, non-binding proposals, the last at 65 pence a share. That was more than twice Premier's share price before the talks became public. Premier opened its books to the bidder while arguing the price was still too low. McCormick had a look — and walked.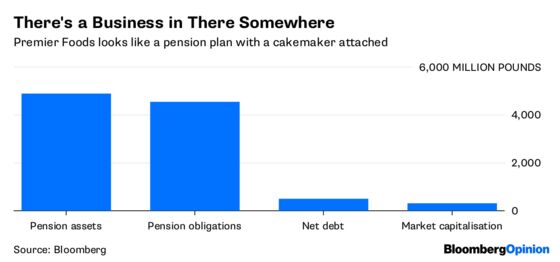 The sheer scale of Premier's pension obligations may have been a deterrent. Their assets exceed their liabilities, but at 4.5 billion pounds ($6 billion), the retirement burden dwarfs the company's market value of just 322 million pounds.
As in so many successful bid defenses, the directors' assessment of Premier's worth hasn't been vindicated. The shares are now at about 38.30 pence. If the company had come to a more accurate view of value, it would have engaged McCormick sooner. Perhaps talks would have gained momentum and yielded a firm bid.
The whole board is to blame for that. The departure of then chairman David Beever in November would have been an opportunity to exorcise the demons. But he left quietly and investors still feel the need to hold someone to account.
The snag is it's not clear what a new CEO could do differently. Premier's high leverage and sizable pension programs are a constraint on the strategy, whoever is in charge.
Asset sales could, in theory, raise funds to pay down debt and shore up the pension program. The remaining debt could then be refinanced at lower rates. But this relies on there being willing buyers for those businesses. Moreover, the benefit of debt reduction would have to exceed the harm of lost earnings — a tricky equation.
A disorderly firing of the CEO risks damaging the business. New chairman Keith Hamill has decided Darby is the best person to run Premier. But that needs to be more than a matter of assertion. Given it will take a long time for Premier to outgrow its debts, Darby needs to show he has explored every option for disposals. And Hamill needs to start planning for an orderly succession.