Oscars' Biggest Membership Drive Boosts Film Academy Diversity
(Bloomberg) -- The group that hands out the Oscars invited 928 actors, executives and filmmakers to join its ranks in the organization's biggest diversity push yet.
Of the new group, 49 percent were women and 38 percent were people of color, the Academy of Motion Picture Arts & Sciences said Monday in a statement. Tiffany Haddish, Dave Chappelle and Danai Gurira are among those who'll get to vote on the next round of Oscar nominees.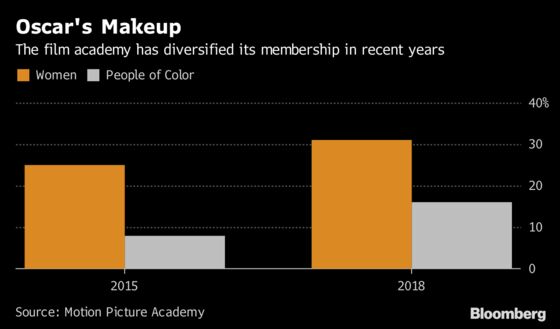 This year's new-member roster is the largest ever and coincides with an academy drive to diversify its largely white male ranks. The group's roster of directors, editors, producers and others now totals more than 7,000.
The academy said female representation has risen to 31 percent this year from 25 percent in 2015, while members of color have grown to 16 percent from 8 percent. The Academy has changed its membership rules in recent years to rejuvenate and diversify its ranks.