Morgan Stanley Sees Yield Peak in Split With Pimco, JPMorgan
(Bloomberg) -- Investors have seen the peak of the U.S. 10-year Treasury yield this year as brewing trade tensions and a stronger dollar curb its advance, according to Morgan Stanley.
"3.12 percent was it," Morgan Stanley global head of interest-rate strategy Matthew Hornbach wrote in a note to clients Friday. "We suggest investors buy 10-year Treasury notes outright," he said, with the 2.9 percent level used in his trade recommendation.
Morgan Stanley's bullish call clashes with other financial titans who reckon the benchmark yield may climb higher as rising inflation and U.S. interest rates prompt investors to sell American debt. JPMorgan Chase & Co.'s Jamie Dimon and Franklin Templeton's Michael Hasenstab have suggested yields are headed toward 4 percent, while Pacific Investment Management Co. is targeting a 3 percent to 3.5 percent range for the rest of the year.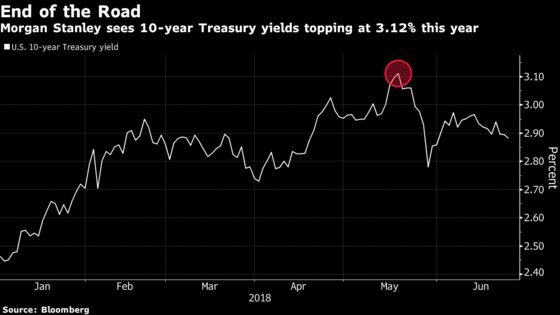 Further capping any increases in yields are a lack of long-end bond supply in the Treasury market for the next two weeks, rising demand for Treasury paper from Japanese investors in July and weak economic data from Canada, according to Hornbach. The 10-year yield was hovering around 2.88 percent during Monday Asian trading.
It's not the first time this year Morgan Stanley strategists have recommended investors buy Treasuries. They turned bullish on U.S. duration in early-April, just ahead of a selloff in U.S. debt that saw yields hit a near seven-year high in mid-May. And it's not clear everyone at the bank agrees: Morgan Stanley CEO James Gorman said in an interview at the end of May that he expected yields to keep climbing, likely finishing the year between 3 percent and 4 percent.
Still, Hornbach sees Treasuries as a good risk-reward proposition, with one caveat being a deal on trade.
"The main risk to this trade is a quick resolution to the trade tensions over the coming weeks," Hornbach said of buying 10-year Treasury bonds. "That would reduce the chance that these tensions make their way into U.S. economic activity over the summertime."