FX Market Ponders Whether Dollar Can Triumph in a Tariff Rumble
(Bloomberg) -- U.S. President Donald Trump has said that "trade wars are good, and easy to win." In the $5.1-trillion-a-day foreign-exchange market though, it's not so obvious that America's currency will triumph over its peers.
The dollar has risen about 6 percent from the three-year low it touched in February as investors ponder the impact of protectionism, and has remained buoyant amid the recent escalation in trade tension. But that rebound came after a slide of about 10 percent over the preceding 12 months, and analysts are divided over the strength of the greenback's rally and the long-term effects of the tariffs spat.
"Traders are struggling to place trade concerns into a coherent narrative," said Matt Weller, senior market analyst at Faraday Research in Grand Rapids, Michigan. While "the U.S. economy could soon see exports take a hit from multiple directions," it may be best situated to weather a protectionist-driven slowdown as it's "outperforming most of its global peers," he wrote in a note Friday.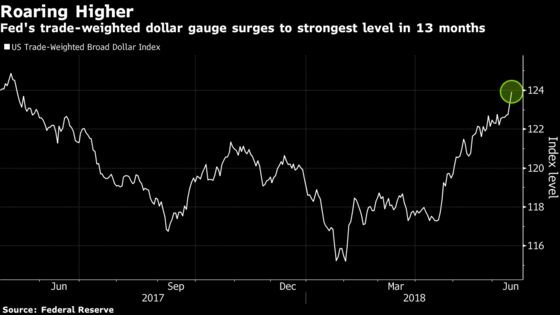 The U.S. Treasury Department is planning to increase scrutiny of Chinese investments in sensitive industries under an emergency law and has already announced tariff measures on various imports from Asia's biggest economy. It has also threatened levies on cars imported from the European Union, while relations with neighboring Canada and Mexico have become more strained as well.
If Trump's tough talk on trade translates into big tariffs, the dollar could ultimately benefit as investors seek out safety in the world's reserve currency, according to Faraday's Weller.
Hedge funds and money managers have done an about-face on the greenback this year, making their biggest-ever shift into net bullish futures positions in the week to June 19, according to data from the Commodity Futures Trading Commission going back to December 2003. The speculators flipped into a net-long stance on the dollar for the first time this year after having built up a short position of more than 280,000 contracts as recently as April.
Here's what others have said about the dollar's prospects as trade tensions simmer:
Valentin Marinov and Manuel Oliveri, foreign-exchange strategists at Credit Agricole SA (June 25 note)

"It appears that unstable global risk sentiment, driven by rising fears that the global economy is on the verge of a fully fledged trade war and by increased political uncertainty about Europe, has been propelling the latest USD buying"
With speculative USD long positioning now close to multi-year highs, the currency may have moved into overbought territory, so the risk of a downside correction "seems high"

Daniel Katzive, head of currency strategy in North America at BNP Paribas SA (June 21 note)

"The USD is winning the trade war, for now," as markets focus on the relative economic impact of tariffs; the U.S. economy is less exposed to trade and would suffer less than export-oriented economies in Europe, Canada and Asia
"The USD would now be vulnerable to an easing of trade tensions," and it's at risk from "renewed administration efforts to talk down the currency"

Athanasios Vamvakidis and other strategists at Bank of America Merrill Lynch (June 22 note)

A trade war would be positive for the dollar against most currencies, including the euro, but negative against the yen
"Everyone would be worse off in a trade war, but the U.S. likely less so as it is less dependent on international trade and is supported by fiscal stimulus. Fiscal policy uncertainty was bad for the U.S. last year. Trade policy uncertainty is bad for the rest of the world this year"

Hans Redeker, strategist at Morgan Stanley (June 22 note)

The bank has turned more bullish on the dollar in the short term, even though it still views the currency as being in the midst of a multi-year downward trend
"The relative attractiveness of U.S. assets should keep the USD supported," while the rest of the world faces challenges, including tighter U.S. monetary policy and rising risks of trade protectionism

Peter Schiff, CEO of Euro Pacific Capital (June 22 note)

A potential decline in U.S. imports could diminish consumption, slow growth and shrink tax receipts, adding to the government's budget deficit
"A trade war may just move our red ink from one pocket to another. Also a slowing economy may force the Fed to cut rates rather than raise them, a development that few people now expect. As all surprises tend to do, this may shock the markets and could send the dollar tumbling"