Europe News Moving the Dollar More Than U.S. Data—For Now
(Bloomberg) -- The dollar is ebbing and flowing more to developments across the Atlantic than to domestic forces, Bank of America Merrill Lynch strategists say.
They cite several examples this year where movements in the U.S. currency appear to have been powered overwhelmingly by weakness in the euro rather than by news from within its own borders. They view the dollar's rally on the heels of this month's dovish European Central Bank meeting, the boost it got from Italy risks at the end of May, while highlighting its virtual non-reaction to the hawkish Fed meeting, as illustrating their point.
"FX correlations with data this year confirm that it takes the EUR to move the USD," strategists led by Athanasios Vamvakidis wrote in a recent note.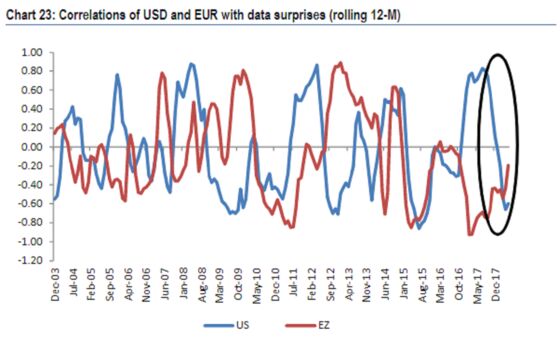 The relative importance of euro-area data is also apparent in the options market, according to the note. "EUR skew and flows are increasingly correlated with eurozone risks as compared to U.S. risks," the strategists wrote. The fact that euro-area policy uncertainty is the bigger driver of options flow suggests that developments on the continent are "becoming a more important driver for hedging activities" than the U.S.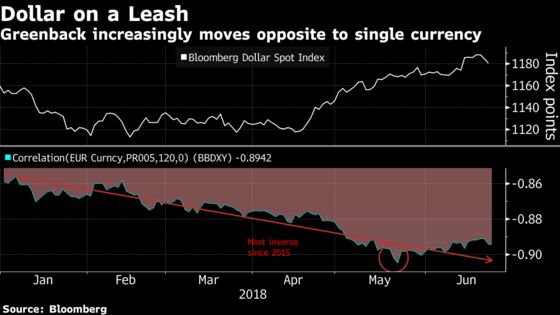 Data on manufacturing and services, derived from Markit's purchasing managers' index, can move the single currency. The final June report is due July 4.
The dollar is about to close its best quarter since the end of 2016 versus a basket of major currencies, while the euro touched an 11-month low last week as another round of Italian risk headlines hit the market.
As investors wake up to developments in the U.S., the greenback could be in for further gains down the road, according to BofA Merrill Lynch.
"Both hard and survey data show a clear and strong improvement. Inflation is also on the rise," the strategists wrote. "It is only a matter of time for the USD to respond accordingly and appreciate further."